Tuesday, March 7th, 2017
Birthdays and Family!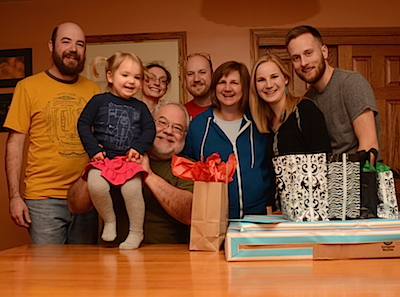 In the photo above, 1 celebrated a January birthday, 2 celebrate February birthdays, 4 celebrate March birthdays. One is the odd ball out with a November birthday. My youngest daughter, missing from the photo, celebrates a March birthday! Plus 2 more missing with an April birthday and a June birthday. On March 4th we did a family celebration for all the February & March birthdays at one time. The 4th was my husband's birthday (sitting holding up our grand daughter.) It was so nice to have 2 of our out-of-town adult children and their spouse/family come visit for the weekend of celebrations.
Hand stitching!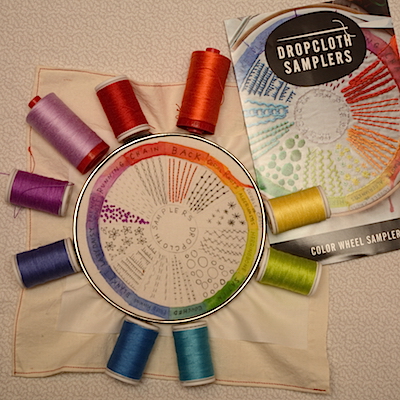 I've seen this color wheel pop up a few times over the past several years on various blogs. A class for it and other embroidery are offered by Rebecca Ringquist on Creativebug. I found I could buy the sampler from her Dropcloth Samplers Etsy shop. So I took the plunge and bought it as a Birthday present to me! I've been wanting to learn embroidery, and thought this sampler might be just the way to 'wet my feet'. I had several 12 weight threads on hand from Aurifil and Superior Threads, but as you can see I need just a few more to complete the color wheel. I do have to wonder about my sanity! With all the piecing, quilting, binding of quilts I have planned, why am I taking on another project!?
How about you? Are you adding a new craft/skill to your list this year?
Last week's To-Do Tuesday List, how did I do?
Continue working on 2 charity quilts. ✔️ I've have quilted a few stars, pictures when complete.
Continue FMQ sampler. ✔️ Top quilted and ready to bind!
Set up time to meet with my friend making pillow cases. ✔️ She stitched 14 pillow cases, and I cut fabrics for 13 more!
My husband's Spring Break (college professor) starts this Friday and runs thru March 12th. I don't think I'll be getting much done in the sewing room. I'll be happily spending the week with him!
This week's To-Do Tuesday List:
Bind FMQ sampler.
Continue working o 2 charity quilts.
Sewing day this Thursday with Curvy Quilters.
Enjoy Hubs being home!
Linking to To-Do Tuesday and Linky Tuesday.