November 20th, 2014
Oldie but goodie. I created this tote cover back in 2010, or there about.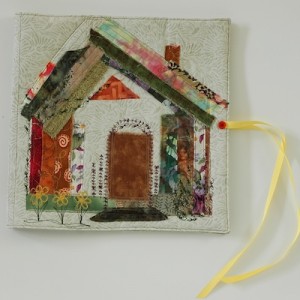 And it has just recently surfaced on Pinterest labeled as 'uploaded by user'. I thought I should straighten that out and take credit where credit is due. I'm still not sure what to call it, it's a tote without handles, it's a cover for storage using ziplock bags. Future plans are to use mesh bags now available to quilters and crafters in place of plastic bags. Anyway, it is a handy little thing that I get lots of compliments on, with gallon and quart size bags for storage on the inside, and good size pockets on the inside front and back covers. I guess it is a 'journal' tote with the bags being the pages. I use it to carry around my bits and pieces of hexies in progress. A quilting friend made one for me years ago with a quilt block as the front and no added pockets on the inside. I have no idea where she got the idea from, put it is very handy.
When gals at the quilt shop or retreats see it, they love the front cover. Then when they open it and see the storage, they always want to make one. A class is being planned for early next year, 2015, at Fabrics and Friends Quilt Shoppe in Roanoke, IN. We are just now working up the next class list, so time and dates to be announced.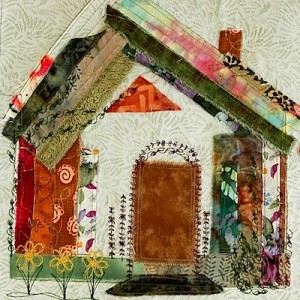 The cover was made with Misty Fuse and scrap fabric, and then machine embellished with free motion quilting and decorative stitches. This is just a house shape I dreamed up,  you can use any design you like for the cover. Have fun being creative with shapes and colors! I'll show a few more covers at the end of this post.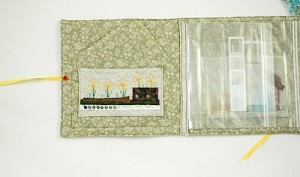 Inside front pocket and Ziplock bags sewn into spine.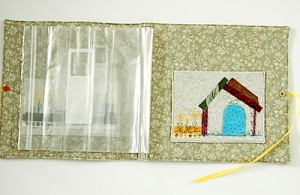 Baggies, and back pocket.
Free Form Applique and decorative stitching on back. By 'free form applique' I mean using scraps of fabric with fusible webbing – I use Misty Fuse – already fused to fabric, usually left from other projects, and just cutting out shapes and ironing in place in designs I like.
Here are a few more covers that are not quite as 'free'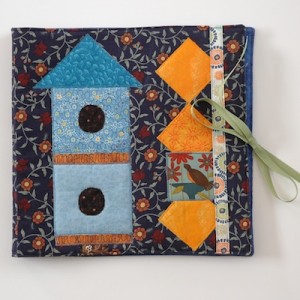 Fusible applique, fussy cut bird, ribbons.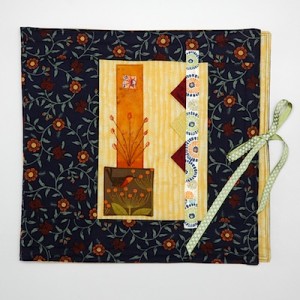 Fusible applique pieces, prairie points, ribbon, decorative stitching.
That's it folks!