October 17th, 2014
About one quarter of my Drunkard's Path units are sewn together.  I only cut out that many, and now that I'm sure of what I'll be doing, I will cut out the rest of the pieces.
And take a look at this! I finished up the last 10 or so units on my new-to-me Singer Featherweight! She sews such a sweet 1/4″ seam!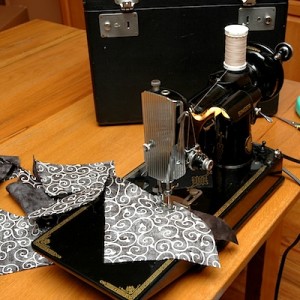 Hubs bought this gem Saturday via Ebay! I had mentioned to him that Vicki, from Field Trips in Fiber, had a Featherweight for sale on Ebay, and never mentioned it again. Saturday he said there was an hour left to the bidding. Up to that point, I had not been aware that he was even watching the bidding. Then a hour later he said it sold for $340.00. I asked who bought it, and he says,"You!"  !!!!!!   Talk about one excited girl!  Vicki got her shipped out on Monday and she was on my door step Wednesday afternoon! And of course I had to try her out right away!
Thank you, Hubs!  Thank you, Vicki!
Other news – I'll be teaching a class starting next Tuesday night at Fabrics and Friends Quilt Shop in Roanoke, IN. We will work through Jenny Pedigo's booklet  Curve it Up, using her Quick Curve Ruler. I'm using Sphere by Zen Chic for Moda for my Curve it Up quilt.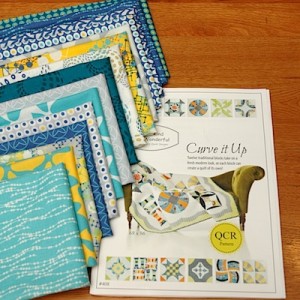 I'm linking to Vicki's Cross the Drunkard's Path Quilt Along. Go take a look at what the others are up to in the Drunkard's Path world!