September 9th, 2014
Oh dear! I'm so very late! I signed up to make some charity quilts and I thought I had until the end of October, but I found out Saturday that they are due by September 30th! Oh no! I was a month off! I am usually not a procrastinator, but this time I have really messed up. That means I have put the babies quilts on the back burner, once again, sigh, and have amped up the charity quilt production. No pictures yet!
And just because that is not enough to be doing, I'm going to be teaching 3 classes at Fabrics and Friends Quilt Shoppe in Roanoke, IN this Fall! Tee hee! So excited about that!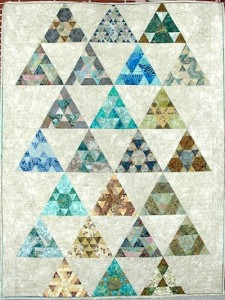 Toes in the Sand Quilt Top.  The Pattern is by Jaybird Quilts and uses the Hex N More Ruler. I love love love this ruler. We have kits made up in Batiks, or gals can buy their own color way. This will be a 2 part class to learn cutting with the ruler and machine piecing the shapes (hexies, half hexies, diamonds, and triangles) and will included some in-set seams.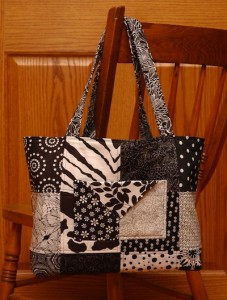 Charm Party Tote by Quilts Illustrated. This nice sized tote is constructed from a favorite charm pack.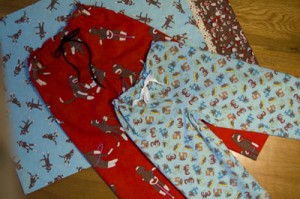 Beginning garment sewing – easy PJ bottoms. Flannel and an easy drawstring casing.
I'm linking up to Freemotion by the River Linky Tuesday.