June 14th, 2016
Hubs and I made a long weekend of it by traveling east to Maryland for a nephew's wedding. It was great to be there, not only for the wedding but also to reconnect with relatives we have not see for a few years.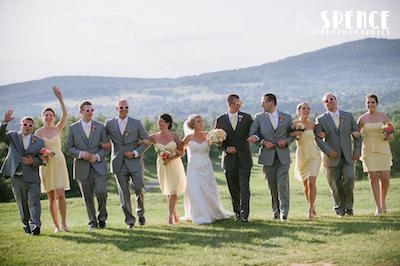 It was a lovely outdoor setting at Musket Ridge Golf Club for the ceremony and then indoor dinner & dancing. Congratulations again to Dan and Callie!
Next up was visiting my folks in Hanover, Pennsylvania with some of our crew catching up with us for the visit.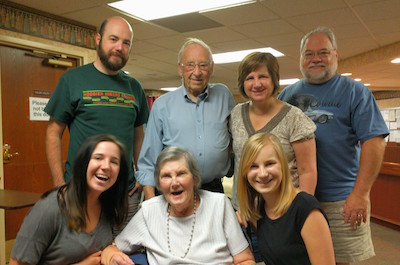 Noel, Dad, me, Hubs/John in back row. Charis, Mom, Anna in front row.
We also got to connect with some more of my side of the family at my brother's home in Maryland.
While in Maryland, we learned that our son and DIL had their offer on a house accepted. That is a huge step in their moving plans. Next they need to list and sell their current home. Since we are home again, I'll be available to help in whatever why they need, cleaning, childcare, packing, meals? Taking one day at a time.
How did I do on last's week To-Do List?
Continue childcare for son and DIL as they prepare to move, they hope later this month or early July. ✔︎
Prep for out of town wedding this weekend. (laundry, pack, gift shop, etc) ✔︎
Maybe Monday mark and quilt block 6 ✔︎ it is marked!
To-Do List for this week.
Quilt block 6 of the Machine Quilting Block Party BOM
Stay available for my son & DIL as they prepare to move
As you can see, very little quilt related activities here right now. I suppose that is part of Summer. How about you? Does your sewing time change with the seasons?
I'm linking to To-Do Tuesday hosted this week by Busy Hands Quilts.