November 24th, 2015
November is month number 2 in Sandy's One Block Wonder BOM Sandy blogs at Upstairs Hobby Room. Here is November's block: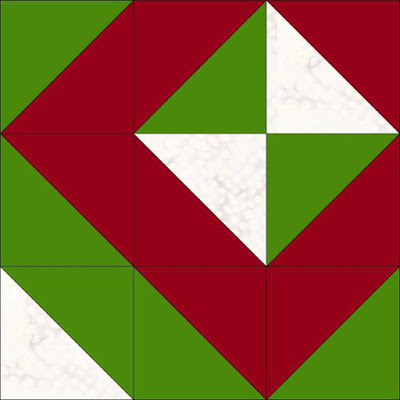 Sandy is creating a new block for each month using Electric Quilt. I'm sure she is having fun! Sandy turned her blocks into a festive Christmas Tree Skirt. I might have to put that on my to-do list for 2016 as I knew I would not finish a tree skirt in time for this year! Sandy has a great tutorial each month to show how to create the block, and also several ideas of what to do with the block. She even has coloring sheets to download, so you can create your own design or color way.
Here is what I did with the block for this month: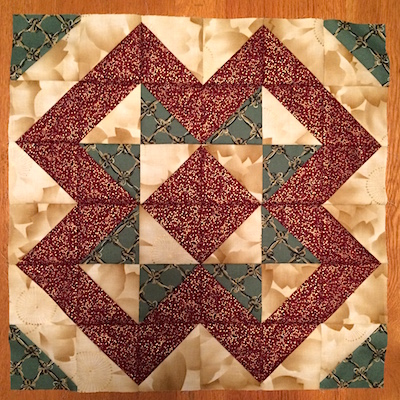 This  will be my Christmas Table Topper for my kitchen table. I used a very old Thimbleberries print in green from the Mistletoe Mountain line. I believe the cream and red are both orientals. But with the gold in each, I thought they worked well for Christmas. I made 4 blocks and rotated them to create the pattern made by the red fabric. Now, the big question is, will I get this quilted in time for Christmas!?
Today, I did cleaning and then in the evening got to watch my 10 month old grand daughter. My son take his wife out for dinner to celebrate her 30th birthday. (Happy Birthday, Kim!)  Thanksgiving cooking starts in earnest at my house tomorrow. We will have family in for meals shared both Thursday and Friday. Saturday I'll be feeling like putting my feet up! Might have to rest those footsies while doing some online sale shopping!
Do you have any hopes at finishing up some Christmas quilts between Thanksgiving and Christmas?  I didn't really have any such plans, until I saw Sandy's design for this month! With her sample of the Christmas Tree Skirt, I really wanted to do a Christmas theme too!
To-Do List for this week – cooking! Visiting with family! Maybe finish a table runner or two. Trying to be realistic, folks!