April 22nd, 2014
Do you document your quilts? I have inherited several quilt tops and 2 quilts. I know the story only for one of the tops. Sad, but I don't know who made two of the completed quilts. So, ladies and gents! Make and attach labels to your quilts! That much loved quilt might be handed down to someone one day, and they might like to know its history. I suggest you include on your label, who made it, date completed, to whom it is give, occasion. I also like to put my current State of residence.
This Saturday, I will be doing a little talk on making labels for quilts at Fabrics and Friends Quilt Shop, Roanoke, IN. Here are a few labels I'll be using as examples: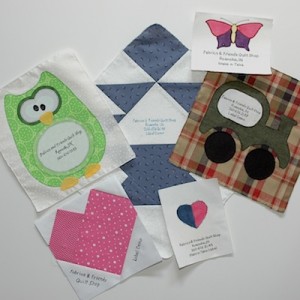 We are also offering a Make-n-Take label – the heart made using Fantasix All-Purpose Ink or the butterfly made using Fabrico pens.
This past week I actually:
-held Easter Dinner at my house  ✔
-started to clean and rearrange living room for Bridal Shower to be held here  Sunday ✔
-Monday, taught Stitchers Garden quilt class at Fabrics and Friends Quilt Shop ✔
Sadly, today the Bernina sewing machine at the quilt shop would not turn on! So I'm hoping my samples and step-outs will be efficient for teaching Thursday's Stitcher's Garden  class! The Bernina won't be taken in for repairs until Thursday. I'm going to miss it!
This week I hope to:
-successfully teach the Stitcher's Garden class without the use of the Bernina. eck!
-clean living room and dining room
-successfully pull off the Bridal Shower for my daughter with the help of her Bridesmaids this Sunday!