May 19th, 2015
The Dance of the Dragonflies is getting there, but not done yet! I picked out the fabric for the borders, but have not gotten to any cutting or piecing on the project this past week. I did get all the little curves stitched down. This is a pattern by Annette Ornelas of Southwind Designs.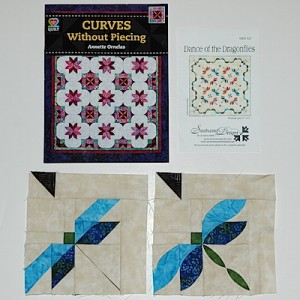 Above photo shows the Dragonfly pieced on the left, and curved stitching on the right.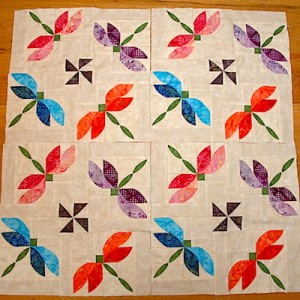 In above photo you see all the dragonflies set together waiting for sashing and borders. Hopefully the wait will end this week!
Moving on to Rick Rack! Have you made binding with the Rick Rack method? The Rick Rack is sewn down the center of the binding, press binding in half, then sew to the back of the quilt. When you turn the binding to the front of the quilt, the Rick Rack now shows on the front and you stitch in the ditch between the it and the binding.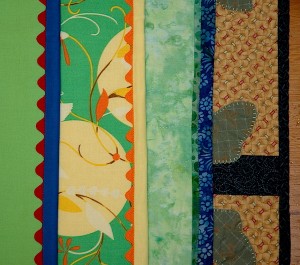 Above photo shows 2 pieces with Rick Rack Binding, next is a Flange Binding, and far right is a traditional binding.
Another work-in-progress is this Rectangle Tablerunner. I used Calypso Batiks and Moda Grunge. Bloc-Loc Ruler for squaring up, and a traditional binding because I thought the prints already had a lot going on with out adding a Flange or Rick Rack. I still have some hand stitching to complete the binding.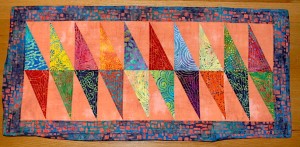 I'm linking to Linky Tuesday and To-Do Tuesday List.
Happy Stitching Gals and Guys! And as you finish up a quilt this week, what type of Binding will you be using? Do you have a favorite?