October 24th, 2014
The rotary cutter is seeing a lot of action here this week!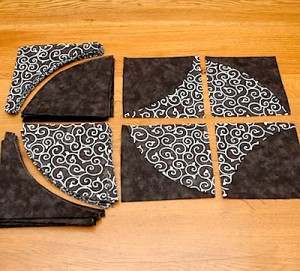 All the pieces are cut for the Drunkard's Path pieces. Next step is to sew them together. Then I will have more cutting to do for the sashing – and I hope what I am envisioning will look great sewn up.
There were other projects that needed my attention this week. Which means I didn't get to working on the DP other than cutting out the pieces. I worked on the quilt promised to my son and daughter-in-law. I have completed 27 of the 35 blocks needed for the top, I have decided to enlarge the quilt to queen size. That meant more time spent with the rotary cutter!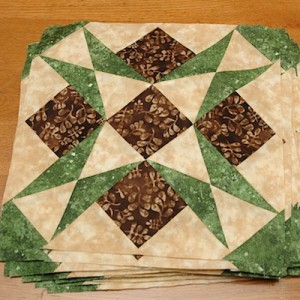 I'm 4 days past my self imposed deadline on this quilt. Fiddle Sticks!  Hopefully, next week I'll have the blocks complete and rows together, than plan out the borders before getting back to the Drunkard's Path. Here's hoping!
I'm linking up to Vicki's Cross the Drunkard's Path Quilt Along.