July 26th, 2016
As the end of the month approaches, I'm trying to get caught up on the 2 BOM I am participating in this year. I got both blocks pieced, but not quilted.
Here is what I created from July's One Block Wonders. I love how it turned out. I used hand dyes by Vicki Welsh and commercial Batiks. The picture does not do Vicki's hand dyes justice. The blue background, oranges to deep rust are all Vicki's. The blue dots are the Batiks. I'm not sure how I will quilt this, but I'm sure enjoying gazing at it every time I walk past it!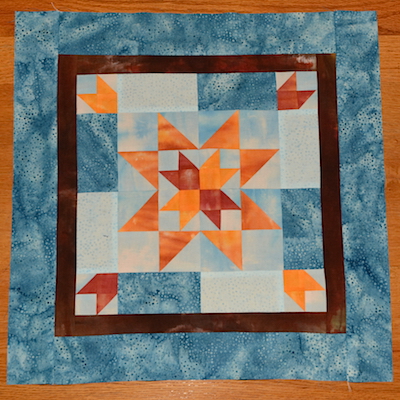 I won a scrap bag from Vicki earlier this year and pulled them out to play with this month's block. Check out her lovely gradations on her Colorways website!
Next up is Leah Day's Machine Quilting Block Party. My July block is pieced and marked for quilting.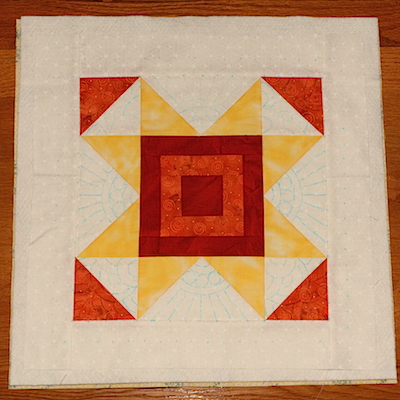 I've also managed to piece a t-shirt quilt that I just took to the longarm quilter this morning. I'll share a photo once it is back and bound. And I started a baby quilt, pieced, sandwiched, but not quilted, so I'll show that one too once it is complete.
One last project, and, Oh Boy! was it ever a last minute undertaking! Hubs and I are going to a special friend's birthday party this Saturday. She loves Hannah Montana! And believe it or not, a local quilt shop still has some HM fabrics! So today I bought 2 pieces, and a blue I liked with them, and sewed up a little quilt for her. I just put borders around two large pieces of Hannah Montana fabrics, sandwiched them – spray glue basting! – and did a quick curvy quilting stitch using the walking foot.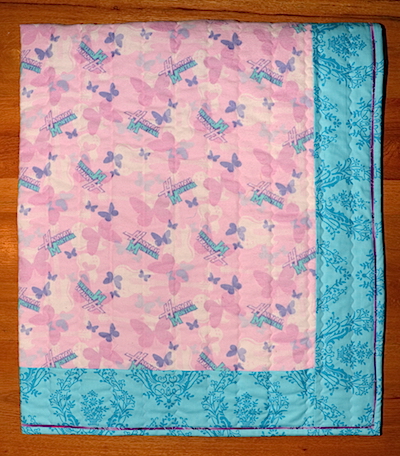 Pictured above is 1/4 of the quilt that measures 51″ x 60″. The pink center is flannel.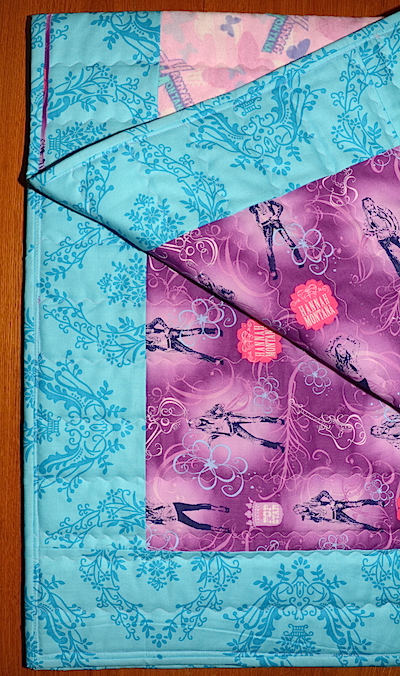 The flip side is quilters cotton. You can see the curvy quilting I did  ever 2 1/4″. I used the Flange Binding method, so you can see the purple flange on the flannel side. I'm so pleased with how this quick project turned out. I hope our friend will like it as much as I do!
How about you, have you ever dreamed up a project and pulled it off in a day? Really, I must say this is the first project I pulled off so quickly!
To- Do For this week:
Quilt July's Machine Quilting Block.
Enjoy Saturday's party.
Do some much needed house cleaning!
I'm linking to To-Do Tuesday hosted by Stitch All the Things and Linky Tuesday.