Wednesday, January 26th, 2022
Finally gifted! A quilt I started in August 2020 and put in time out, or was it ME that went into time out?!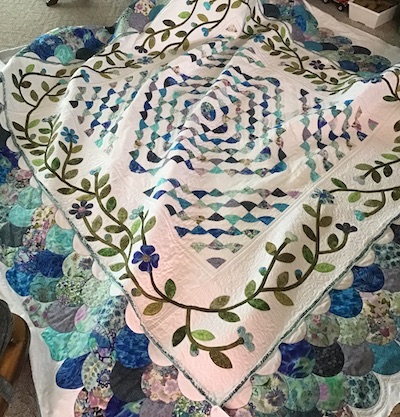 Here is where I left the quilt in December. Pieced and put together with a quilt-as-you-go method, I still needed to add sashing over the seam between the Clam Shells and appliqué vines.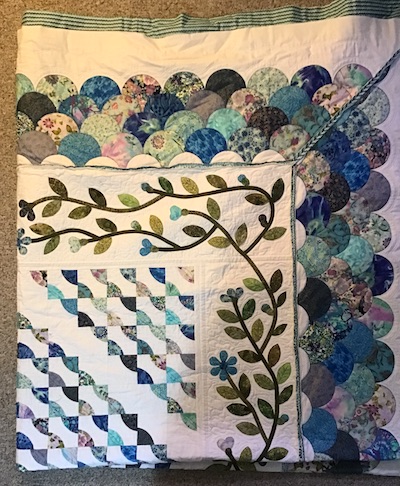 Above shows the seams that need to be covered with sashing. And the mitered seams at the corners to be covered with leaves.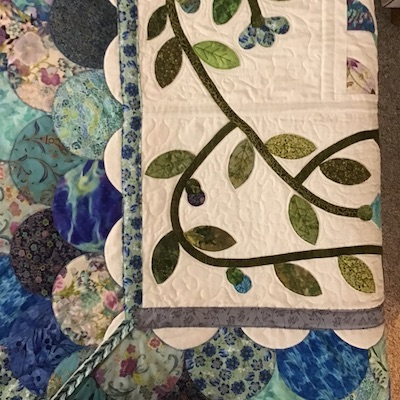 Sashing sewn over the inner seams.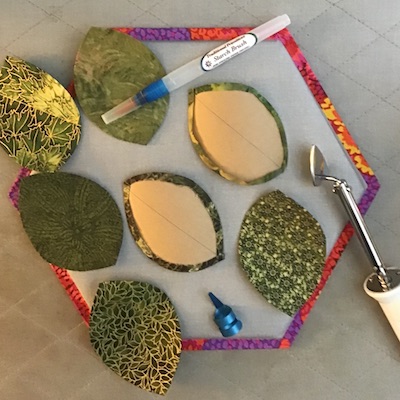 Prepping leaves to cover the mitered seam corners.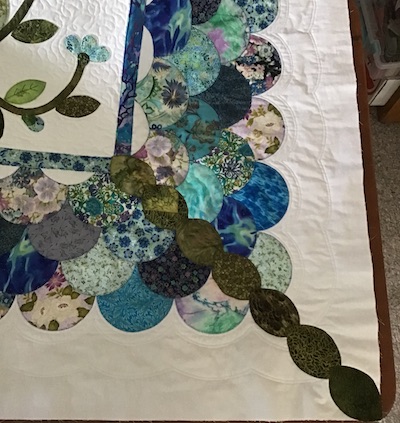 Leaves appliquéd in place. Quilt is ready for binding.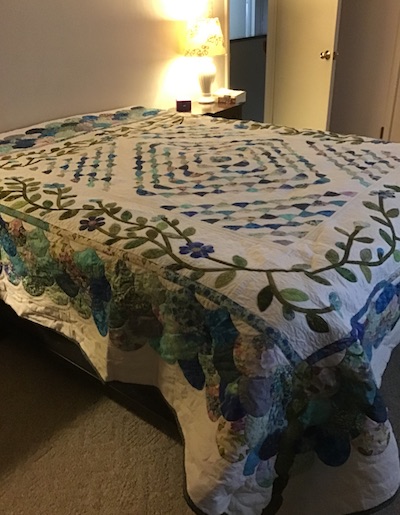 Happy dance! I completed quilt! This is on my bed. It will look much prettier on their bed with a Amish made head board. But I don't have a picture to share of that, so this will do!
The quilt is a Sue Pelland pattern, on the cover of her Hearts and More Book. I enlarged the quilt to 99 1/2″ x 107″ to fit a queen size bed. All appliqué is turned, not raw edge, center Drunkard's Path blocks are pieced, not appliqué. I used Pauline Rogers' Quilt As You Go method. The center was pieced and quilted, then the vines where appliquéd and quilted, and attached to the center. Then the clams were appliquéd on background, quilted, and then attached to quilt. Doing this method I could quilt each section on my Janome machine having smaller sections to quilt instead of fighting the queen size quilt as one whole piece.
This was my first time to do the quilt-as-you-go method to construct a large quilt. I like how this quilt turned out and will consider doing a large quilt in this method again.
Oh, and if you are wondering about the time out I mentioned in the beginning of this post, let me explain. When I got to the part of sandwiching the Clam Shell sections to the backing fabric, I miss calculated and cut the fabric with not an inch to spare. Then I sandwiched the wrong size back to a Clam Shell front. Ripped it all out and then attached the back to another wrong front! Gah! At that point I had to set the quilt aside and wait for a clear head to rip it apart again and hopefully get the sections paired together correctly on the third try. It sat for several months before I was willing to pull it out and complete it. And of course once I did pull it out and get going on it again, all went well. So, yes it was me in the time out!
Linking to One Monthly Goal hosted by Patty of Elm Street Quilts.