Wednesday, July 26th, 2023
Good Morning quilting friends! July is flying by and August will be here in a minute it seems. Return to school ads are popping up everywhere. Today I have my grandson visiting while his sister is at choir camp. And his mom is busy with yard work.
Take a look at what happened in my quilting and sewing world this past week.
To-Do Tuesday, July 18, 2023
Turbans! Hope to get to a few tonight. ✔️
Meeting with Church sewing group tomorrow, Wednesday. ✗
Friday some friends and I are going to the One Stop Shop Hop in Wabash, IN. I've got a shopping list! ✔️
Friday is also the day Primitive Gathering announces the next two blocks to be made for Twilight Stars QAL. Looks like busy weekend sewing ahead for me! ✔️
Aurifil thread project. ✔️ In progress!
Here's my progress for the week -
1. I stitched up five turbans.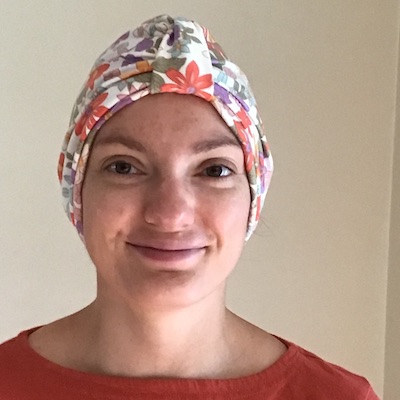 Here is my DIL modeling one of the turbans. Cute how it coordinated her top the day I asked her if she would mind trying it on.
2. I missed my Wednesday church sewing group because I woke up with a terrible headache in the middle of the night.  Not a migraine, thankfully, but did put me out for the day. My DIL took the turbans to the meeting for me.
3. We had One Stop Shop Hop fun! But it was so crowded! Maybe we should have gone in the afternoon instead of when they opened on the first day. We noticed it thinned out a bit as it neared lunch time.
I did make a few purchases. Top left – kit pattern and fabric. Top right – puzzle for when Christmas guests visit! Planning ahead! The rest are one yard cuts and two panels.
4. Blocks 3 & 8 are the blocks for Twilight Stars QAL using Primitive Gatherings Triangle Gatherings book.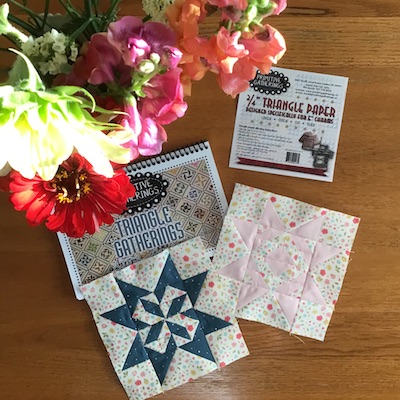 6″ finished blocks, flowers from my daughter's garden.
5. Aurifil thread project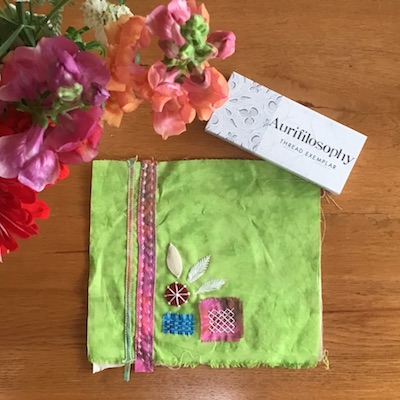 The Aurifil Thread Exemplar box for our first month to Thread Lab came with seven spools of different weights and types of Aurifil threads. Karen L. Miller of Redbird Quilt Co. designed a pin cushion using the threads provided. Our homework is to make the pin cushion this month. Here is my work so far. I'm rearranging the elements to my own design.  I'm learning some new hand stitches while using Aurifil threads I've not used before in this Aurifil Lab. Fun! The fabrics I'm using are hand dyed by Vicki Welsh of Colorways.
To-Do Tuesday, July 25, 2023
Finish pin cushion for the July Aurifil Thread Lab class.
Get back to one of my PUPs, Previously Unfinished Projects!
??? Mystery project ???
That's it for me this week. How is your week going?
Linking to To-Do Tuesday hosted by Carol of Quilt Schmidt.