What a week! We did have a Blessed Easter, but not the way we expected. I missed Good Friday service because my daughter called saying she had a nasty cut on her ankle. She thought it might need stitches and her husband was not home. Also, she does not do well with blood! Could I look at it and take her to Redimed? Mind you I live 35 minutes from her. We Face-timed and yes, I thought it would need stitches. So hopped in the car, got her to Redimed 15 minutes before they closed. She was the only patient, and yes she did need 3 stitches. Plus splinters removed. The DR was very nice. I had said sorry for keeping him late on a Friday night, and he said he didn't mind when it was someone who really needed assistance.
Easter Sunday plans changed again as our son and two of his family were sick. I took my granddaughter to church, Hubs picked up lunch for us, and we had a fun afternoon with multiple eggs hunts in our yard. I think granddaughter would have gone on for hours with us hiding eggs again and again! When we took her home, we thought/hoped her brother would be well enough for a little egg hunt in their yard. Nope. Poor fella. He figured out quickly which eggs had something in them, and bypassed all the rest. After picking up just four eggs said he was done.
Basically, it was the quietest Easter Hubs and I have ever celebrated. Instead of potentially 14 of us, only three of us. The rest of family was traveling or had other plans, or sick! Poor daughter with stitches did make it outside for a bit, using crutches, to enjoy the sunshine.
In my sewing and quilting world -
To-Do Tuesday, April 4, 2023
Quilting Trip Around the World  ✔️
Pieced border for the Featherweight embroidery. ✗
Wednesday – sewing with women's group at church – heart pillows for cancer patients. ✗
Spring Break – granddaughter is to visit for a quilting lesson. ✔️
Daughter's house – not sure when I'll fit getting over there this week. Hubs is staying busy there finishing up rewiring. Porch lights are next. ✗
1.  Quilting Trip Around the World. Last Tuesday I met up with two quilting friends for lunch. And then headed over to one friend's home to load the quilt on her longarm. I only had the afternoon for quilting.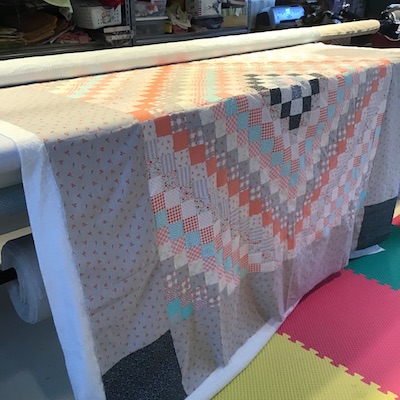 Loading the longarm.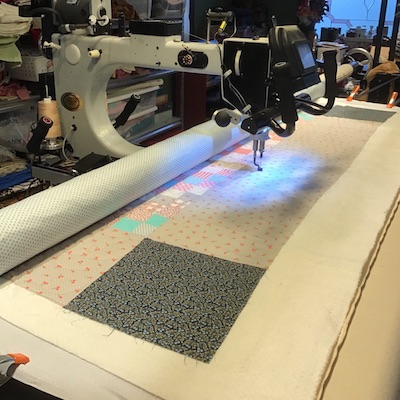 Last pass, as I forgot to take pictures during the quilting.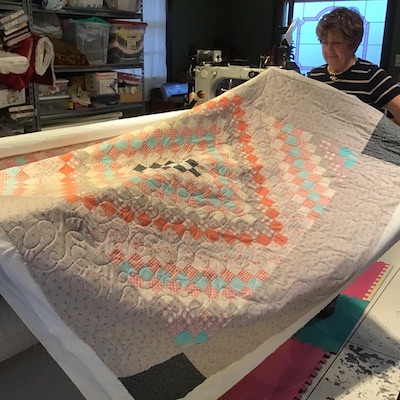 Friend Ruth, who invited me to use her longarm, holding up quilt.
As a reminder, this is the first ever quilt pieced by my friend, Janie. She pieced it while visiting from TN. Then she left it for me to quilt for her. As you can see I did an all over large meander with occasional loops. All free motion. I hope Janie will like the simple quilting. If I'd had more time and experience with a longarm I would have liked to have done something more intricate. Binding is ready to attach.
2. Pieced border for the Featherweight embroidery.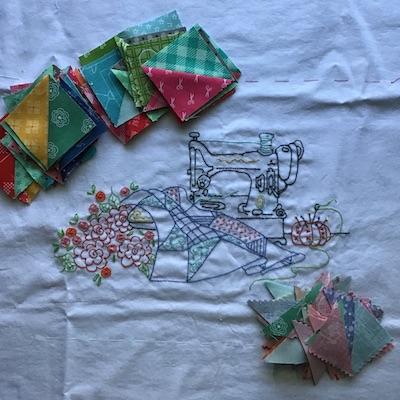 I did have time to piece the HST, but not sew them together or attach to the embroidery piece.
3. Wednesday – sewing with women's group at church. This didn't happen. Canceled due to severe weather predicted that didn't materialize here. A tornado did pass through 30 or so minutes south of us, but didn't touch down.
4. Spring Break – granddaughter is to visit for a quilting lesson.
My DIL and two grands only made it over one day for sewing. Here's the run down of what happened.
My DIL FMQ -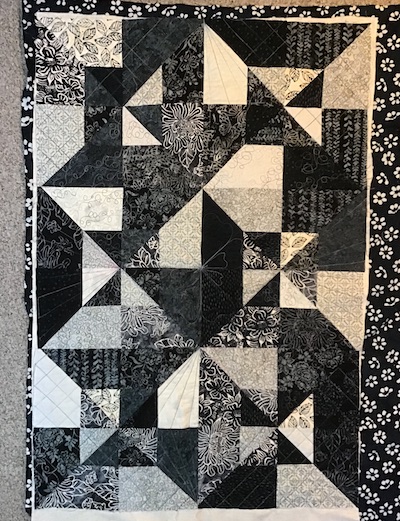 She quilted this top, I don't remember the name of the pattern, I think it came with the layer cake.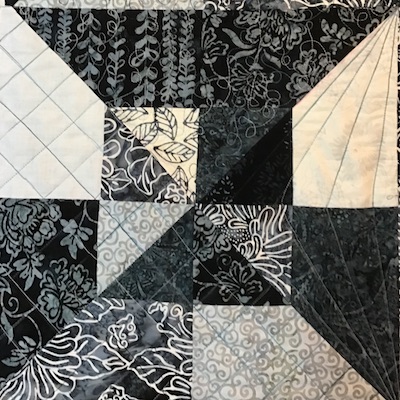 She did cross hatching, 'v's and stippling with little loops. All FMQ, love her creativity!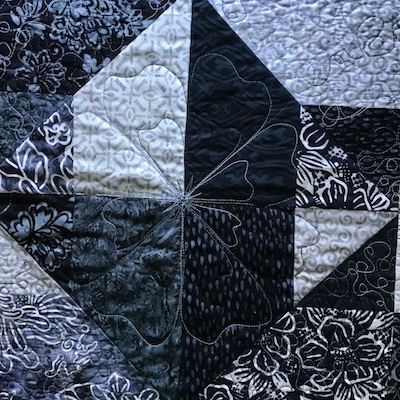 Look at her large FMQ flower in the center of the quilt! Love it! If I'm counting right, this is only her 4th quilt to FMQ! Talent! (Maybe I should have had her do the quilting on Janie's Trip Around the World!) Quilted with Variegated gray 40 weight Auriful thread.
Granddaughter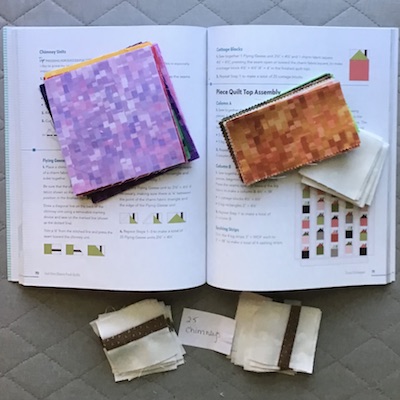 She picked out this house quilt pattern last Fall when we also bought the fabric and cut the pieces out.  Pulling it all out, she got the strips sewn together for the house chimneys. Then she was done. This might just take a while!
Grandson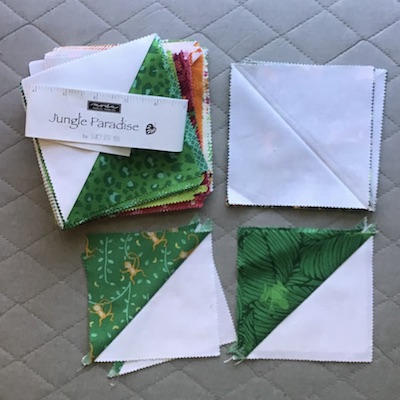 I think he wanted to sew because Mom and sister were doing so. We picked out a charm pack and all he got sewn together was four little squares! Lost interested quickly. I think I'll be finishing this one with out him.
5. Daughter's house – Hubs has been working on getting the electric finished up for the next inspection. I was only over there one day. I had lots of construction debris to clean up. Plus helped Hubs pull through the last two wires for three-way switches. At this point, I really don't know what is next.
And now this week -
To-Do Tuesday, April 11, 2023
Trim and bind Trip Around the World.
Piece border for the Featherweight embroidery.
Decide on a project for evening handwork.
Land on some other project – old or new?
Daughter's house. Her goal is to be in the end of this month. Hubs and I don't think that is very realistic. She wants to move in while construction is still happening. I've experienced that, and don't recommend it!
Linking to To-Do Tuesday hosted by Carol of Quilt Schmidt.