Tuesday, September 5th, 2023
It's September! I'm looking forward to cooler breezes and temperatures.
I've got some sewing sad (and happy) news –  my sewing machine decided to do a slow death. The computer screen has been flickering and slowly getting dimmer each time I turn on the machine. I called the LQS to make sure this was something they could fix, and of course it will be pricey. $$$. AND of course the shop tries to talk me into upgrading. Ha ha!  I new that would happen. AND husband and I talked before I left with my dying machine with him saying I should upgrade. I'm not going to turn that down! So that happened. Didn't take much talking on the LQShop's part!
I bought the upgrade and I've done a little sewing on the new machine while figuring out some of the features I'll be using most.
While I was waiting for my new machine, I pulled out a 25 year old machine to patch a pair of work pants for my hubby.  It's an old Bernina that is a workhorse! It can just fly over the thick seams.
Here's how my TDT week went -
To-Do Tuesday, August 29, 2023
I've got to get cracking on the next set of twin baby quilts! – Kind of!
Stitch next set of Twilight Stars QAL blocks. – Done!
I'll fill in the blank for this as the week moves along. – Two projects!
1. I scratched my first twin quilts idea and moved on to a new idea!  I bought all new fabric for the next set of twin baby quilts. I went to the LQS for backs for what I intended to give the twins, and found the cutest Minky! It doesn't go with the original tops, so I planned all new quilt tops.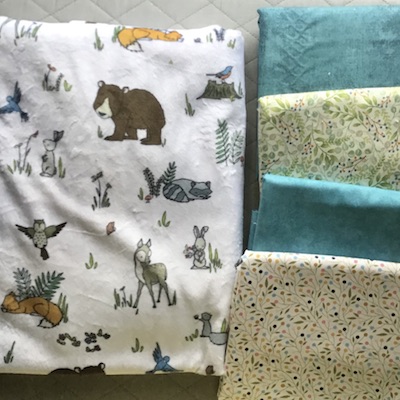 The nursery theme is outdoor/nature/hiking/mountains. So I thought this animal print will be perfect. I'll be using the vine prints for the backs.
2. Twilight Stars QAL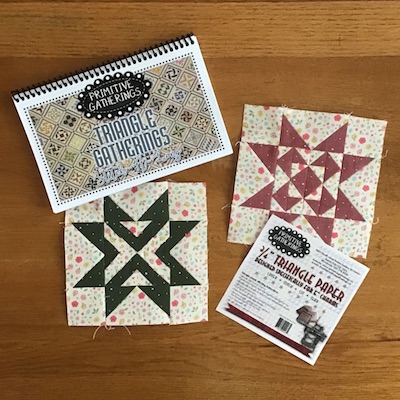 Week 12 of Primitive Gathering Twilight Stars. I have one more block to make in this size, 6 " finished, using the 3/4″ Triangle Papers. Then I can piece together the blocks for a small quilt. I'm going to switch to a larger paper size for the next set of blocks.
3. My fill in the blank – I sewed up two items.
Project 1 – I made another set of blocks from the Aurifil Thread Lab August lesson.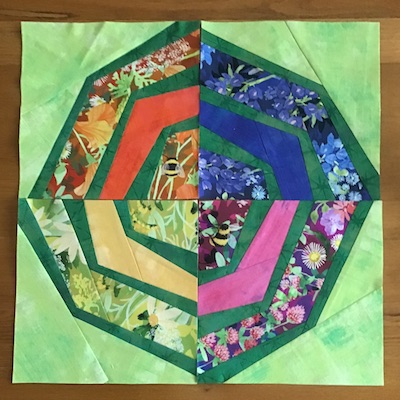 This is a pattern by Amy Friend who taught Foundation Paper Piecing FPP. I had the floral fabric left over from the first set of twin baby quilts, that will now be charity quilts.  I like the fabric combo in these blocks.
Project two -
I finished this quilt top as a gift for a friend's birthday.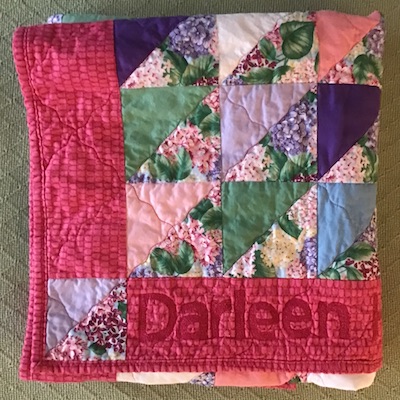 She lives in a nursing home, so whenever I gift her something, I make sure her name is large and prominent! These are 3″ tall letters that I filled in with thread painting. The top has been finished for a while, so I just sandwiched it and did the serpentine quilting with a walking foot. This is the last project I finished on my dying machine. I was so glad that the screen held out while I completed this project.
What to work on this coming week? Here we go -
To-Do Tuesday, September 5, 2023
Baby Twin Quilts!
Stitch Week 13 Twilight Star QAL
Piece the 4 FPP blocks together. Quilt if there is time.
Friday, quilting with friends.
That's it until next week. I hope you have a happy and productive week!
Linking to To-Do Tuesday hosted by Carol of Quilt Schmidt.