Thursday, August 16th, 2012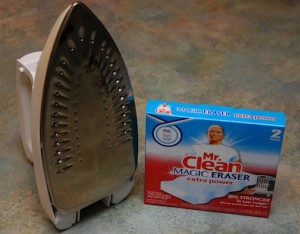 The top half of my iron is getting a bit gunked up from fusibles. I saw on Sew Cal Gal several products that are suggested for cleaning irons. Since I'm out of Dritz Iron-Off  I thought I'd give some of the other products she listed a try.
Wax paper – oops out of that too.
Dryer sheet – didn't help a bit.
Mr. Clean Magic Eraser, got some of the grime off, but still a long way from clean. Maybe if I hadn't gone so long between cleanings it would have worked just fine.
Guess a trip to Joann's with a 40% off coupon is in my near future for the old stand-by, Dritz Iron-Off.