Tuesday, November 19th, 2019
Bat Moon Rising is coming along. I'm using an ombre fabric for the background, which means more fussing with placement of the fabric.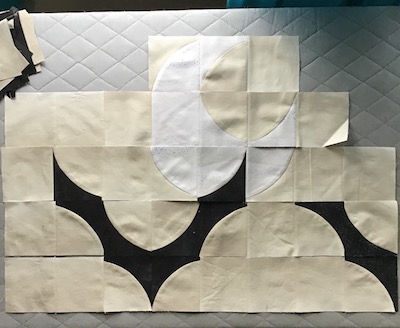 I've started with light background around the moon and will work into the darker fabric as I move away from the moon. This is a Sew Kind of Wonderful pattern from the Mini Wonderful Curves book.
Happy Little Things: Block 4 embroidery is all stitched up. I'll be using the fabrics shown for piecing the block.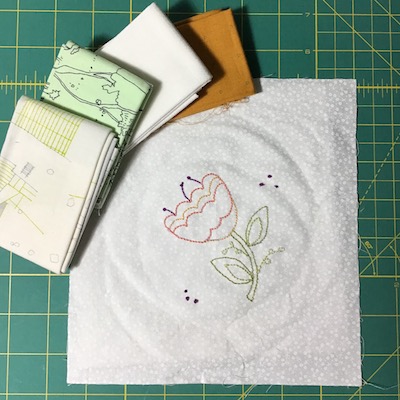 I didn't think I got much hand work done this week, but when I pulled out Happy Little Things last night, I only had a little bit of stitching to complete the design. Plus, since I took a road trip last Friday, which included stopping at a new-to-me quilt shop, I bought larger embroidery needles that worked well with the Perle Cotton.
With Thanksgiving in the USA just around the corner, I'm dreaming of making these cute pumpkin rolls for dinner – and use them as part of the table decorations.  Or this version. Maybe both, since I have some vegans in the family.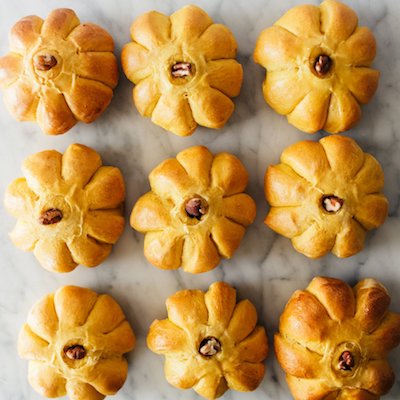 (photo from Handle the Heat)
Do you have any special recipes that always make it to your dinner table during the Holidays?
Last To-Do List:
Continue quilting Curve it Up ✔️ I didn't get much done, but any progress is better than none.
More fabric cutting, then start piecing Bat Moon Rising ✔️ I'm happy with the out come so far!
Hand embroidery in the evenings ✔️Finished block four of Happy Little Things, but didn't get to Dropcloth Sampler.
To Do List:
Continue with Curve it Up quilting
Keep piecing Bat Moon Rising
Piecing block 4 of Happy Little Things
Finish Satin Stitch in the Dropcloth Sampler
Linking to To-Do Tuesday sponsored by Home Sewn by Us.