Tuesday, March 28th, 2017
I'm at it again. Off on another bunny trail or two! This time with some turtles and hexagons.
Here's the story.  The LQS has a great little shopping incentive. During the last week of January, you can buy a certificate for $25. Then mid-February through July you can use that certificate for $50.00 worth of fabric. Each patron can purchase up to 5 certificates. Spent $125 for $250 worth of fabric.
There is a catch. Your purchase has to be $50.00 or over. You can't use it as you would a gift card. So, I make a list of what I plan to buy and try to get it close to $50 or $100.  This past week, I went with my list, but was $15 short of $100. That meant finding more fabric to buy. Not a problem, right? After all, this is a quilt store with lots of goodies to tempt any quilter!
A turtle fabric had caught my eye as I was walking around. And there were several fabrics that coordinated nicely with it. I opted to buy 1/2 yard of three prints, with the plan to make a table runner for my sister.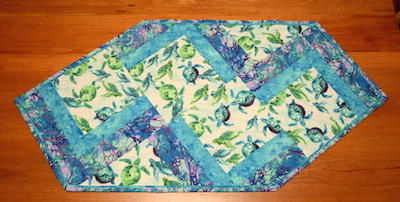 At my Thursday Curvy Quilters sewing day, a friend and I came up with this asymmetrical design that showcases the turtles.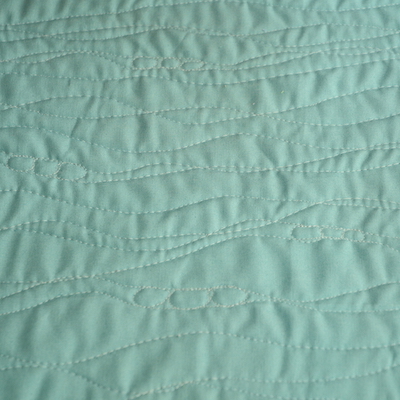 Close up of quilting, which I hope looks like wavy water and bubbles, back side of quilt.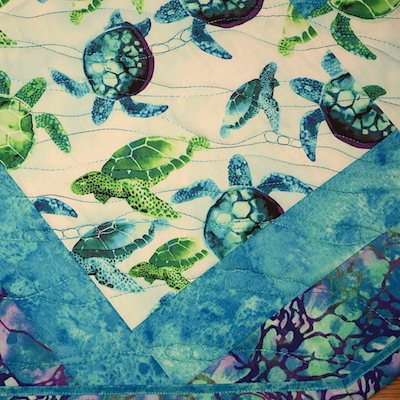 Close up of quilting on front of table runner. It only took part of 2 days to complete this table runner with piecing, quilting, and flange binding. That was Bunny Trail #1.
The next bunny trail involved a pattern I bought a while ago. It is Color Hex by Jeni Baker of Incolororder.com.  I love hexes, and liked the color wheel design.
Last summer, I bought several FQ packs while on a shop hop with my Curvy Quilters group. The FQ packs would work up well in this color wheel pattern.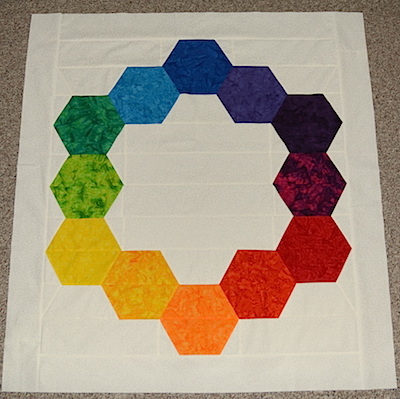 I follow Jeni's blog, she had a sale going on this past week to celebrate her birthday. How fitting, I thought, to pull out the pattern and finally make it – a celebration of Jeni's birthday, and mine since I'm also born in March. I think the Hexies will be great spaces for practicing FMQ!
Last week's To-Do Tuesday List, how did I do?
Get back to Dropcloth Sampler. ✗ This is something I do while watching TV. But I'm not doing much of that lately.
Continue Fusion Blanket. ✔️ I continued with the blanket stitching and have a lot more to go! Plus had my first crochet lesson!
Continue t-shirt quilt. ✔️ Shirts are all fused with interfacing.
Next step of Sew All Around BOM. ✔️ Blocks pieced.
Enjoy Curvy Quilters sewing Thursday. ✔️ I worked on my two Bunny Trails.
This week's To-Do Tuesday List
Concentrate on t-shirt quilt.
Next step of Sew All Around BOM.
Continue Fusion Blanket.
I'm linking to To-Do Tuesday hosted at Stitch All the Things and Linky Tuesday hosted at Freemotion by the River.