I've been procrastinating. I reserved a spot in early September with my favorite longarm quilter for the Bargello quilt. Problem is, I still have to get the appliqué constructed and attached! Today, I finally made it to the local Staples store to enlarge the patterns 150%. After lunch out with my hubby, I got to work labeling & cutting out pieces and cutting fabric.
I'm working on the outrigger canoe & paddle from Paddler's Heritage pattern.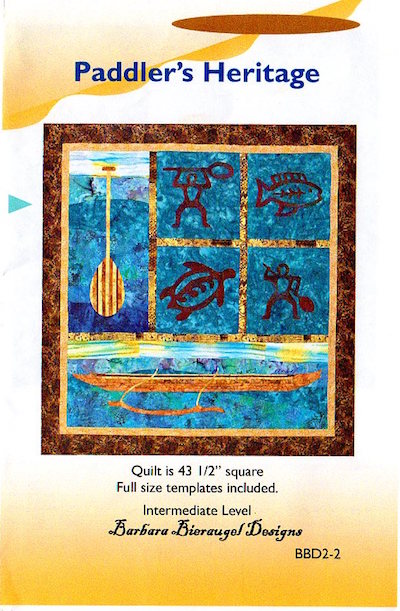 Next up will be the turtle scene from Someone to Watch Over You pattern.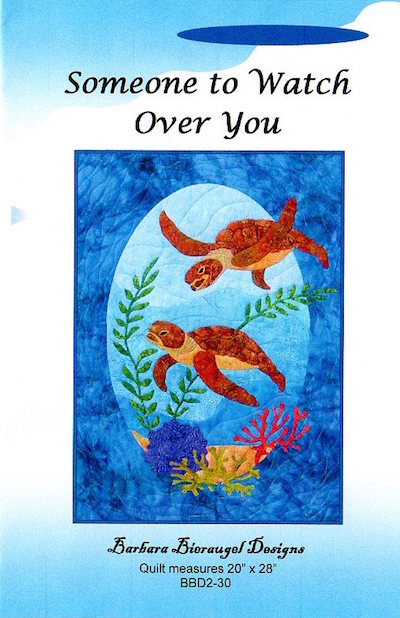 I raided my very small stash of Batiks looking for the right fabrics for the coral. I might be taking a trip to the local quilt shop tomorrow for more Batiks! Such a shame, right!?
Do you have a particular step in the quilting process that you procrastinate on?
Here is a photo of the completed baby quilt I shared last post, and gifts to go with it for little Olivia.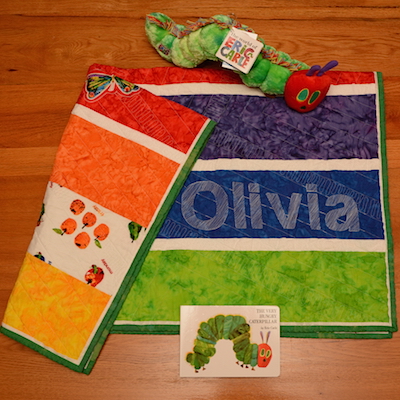 I used the green Moda Grunge with a white solid for the flange and binding. I'm very pleased with how this quilt turned out – the bright fabrics, quilting design, name, binding. My son and daughter in law visited last weekend (with my grand baby!) and my DIL commented on how she really liked this quilt. It is nice to get an unsolicited compliment! She particularly liked how I quilted the baby's name. Guess I'll keep that idea filed away for future quilts!
How did I do on last week's To-Do List?
Bind baby quilt ✔︎ – completed! But not gifted yet.
Enlarge and cut out appliqué pieces for Bargello quilt. enlarged ✔︎ and have a long way to go to finish the cutting, fusing, & stitching.
To-Do List for this week:
Bargello – finish constructing appliqués!
Bargello – fuse and blanket stitch appliqués to quilt!
Bargello – sew back of quilt together!
I'm linking to To-Do Tuesday and Linky Tuesday.
Tags: Bargello Quilt, Linky Tuesday, To-Do Tuesday