Tuesday, September 6th, 2016
Oh My Goodness! I'm sending the Bargello quilt to one of my favorite longarm quilters this week! I am just so totally happy with how the appliqué has turned out on this quilt.
I used a monofilament thread on most of the appliqué pieces, and Aurifil all match-y match-y on the seaweed, turtles, canoe and paddle.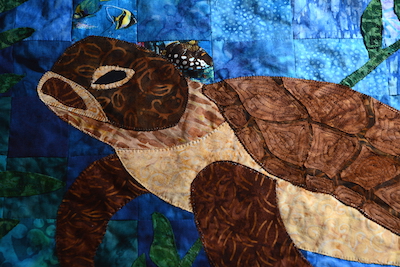 (Oops! I forgot to stitch the black of the eye!) On the close-up of the turtle, you can see the monofilament thread used for the blanket stitch. And on the turtle shell – can you see the spiral stitching in a brown matching thread?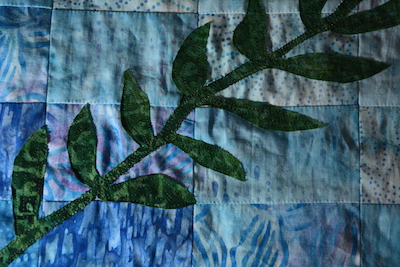 Seaweed stitched in place.
And here is the completed Bargello quilt top! It is 108″ square, so it was hard to hold up for a good picture! My daughter and I are standing on our raised fireplace hearth, we are touching the ceiling with the top borders folded down and it is puddling on the floor.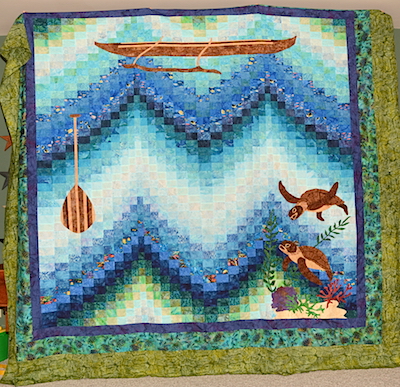 This quilt is the brain storm of my sister. She lived in Hawaii, and when her husband was being transferred to the Mainland east coast, she wanted a King size quilt that spoke of her love for Hawaii. She saw a small Bargello wall hanging at a quilt shop, and wanted to know if I could make a King size Bargello. Then she found two wall hanging patterns, one with the outrigger canoe & paddle, and one with the turtle (Honu) scene. Her idea was to enlarge them to appliqué on the bargello quilt. My sister was a member of an outrigger canoe racing club. She loves the ocean, and the sea turtles that you could see feeding along the beaches.
Now the quilt goes to the longarm quilter for her to work magic in those bargello waves! I am so looking forward to getting it back and bound and delivered to my sister!
How did I do on last week's To-Do List?
Bargello –  appliqué stitched in place! ✓
Bargello –  back sewn together.  ✓
Bargello – Hopefully, deliver to the long arm quilter! I'm so excited about completing this quilt! I'm waiting for the date from the longarm quilter!
Bargello – binding ready and waiting! ✓
Down load September pattern on the 1st for the Machine Block Party.  ✓
To-Do List for this week:
Binding t-shirt quilt (picking up from quilter this week)
Piece September's block for the Machine Quilting Block Party.
Download last One Block Wonders BOM pattern. Can't believe we are already on the 12 month!
I'm linking to To-Do Tuesday and Linky Tuesday