I am so super pleased with how all the appliqué is coming together for the Bargello quilt! It is taking longer than I'd like, but all the pieces are constructed – outrigger canoe & paddle, and the turtle scene which is fused to the Bargello quilt.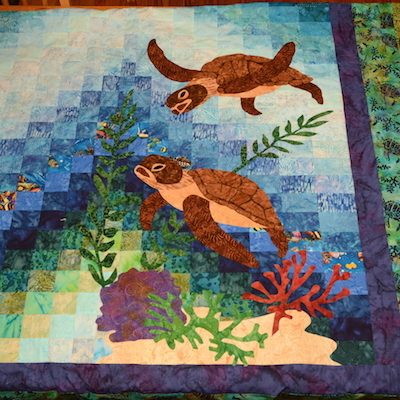 This is the lower right corner, inside the borders, of the king size bargello quilt. The pattern for the Honu (turtle) scene is Someone to Watch Over You by Barbara Bieraugel Designs. I enlarged the pattern by 150%.
Now I need to decided if I am going to be match-y match-y with the thread with each motif, or use monofilament thread all over. Monofilament sure would make it easier, but would the sheen ruin the look of the quilt?
I love Misty Fuse! It is my go-to fusible. I like the feel of the finished product. And I find it very easy to work with when fusing appliqué pieces. Do you have a favorite fusible product?
I didn't have the One block Wonders August block on my To-Do List last week, but I did finish piecing a table topper using the pattern! The block is called X Box.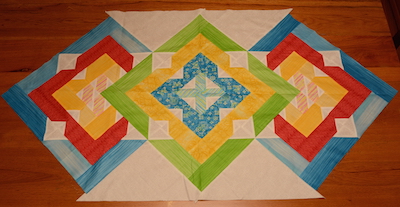 I also finished the August Machine Quilting Block Party. I needed some time away from cutting out all the little pieces of appliqué for the Bargello quilt!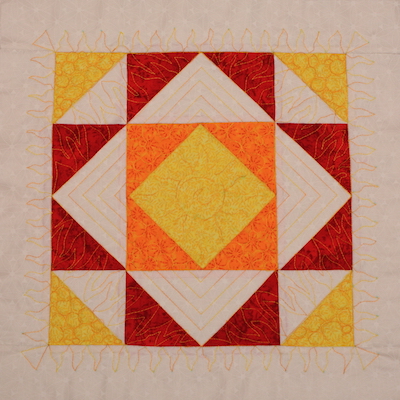 How did I do on last week's To-Do List?
Bargello – finish constructing appliqués! ✔︎ All constructed and I'm so pleased with them!
Bargello – fuse and blanket stitch appliqués to quilt!  - Fuse! ✔︎ The Turtle Scene is fused in place and starting to stitch around them today!
Bargello – sew back of quilt together! ✗
To-Do List for this week:
Bargello – Top stitch all the appliqué in place!
Bargello – sew the back of the quilt together.
Bargello – Hopefully, deliver to the long arm quilter! I'm so excited about completing this quilt!
Bargello – construct binding for the quilt.
Down load September pattern on the 1st for the Machine Block Party.
I'm linking to To-Do Tuesday and Linky Tuesday. Hope your Tuesday is going well!
Tags: Bargello Quilt, Linky Tuesday, Machine Quilting Block Party, One Block Wonders BOM, To-Do Tuesday