Tuesday, July 11th, 2023
The Dog Days of Summer are here in NE Indiana. So humid! Not complaining, it's to be expected!
I did things this past week! Take a look, and then go link up to To-Do Tuesday hosted by Carol of Quilt Schmidt to share what you are working on quilt or craft wise.
To-Do Tuesday, July 4, 2023
Continue with T-Shirt Quilts! ✔️✔️✔️
Wednesday sewing group at church – not sure what I'll be working on. ✔️
??? Maybe I'll sew up & quilt more blocks from my PUP. ✗  But I did work on another project.
1. T-shirt Tops are all completed!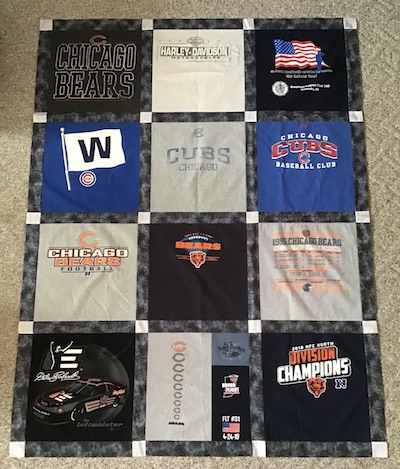 I used a simple 3 x 4 layout for all three. I cut 2 1/2″ strips for sashing, and 2 1/2″ squares for corner stones. T-shirts cut at 16 1/2″ square with one block pieced from sleeves and bits for a total of 12 blocks. Tops measure 56 1/2 x 74 1/2 inches.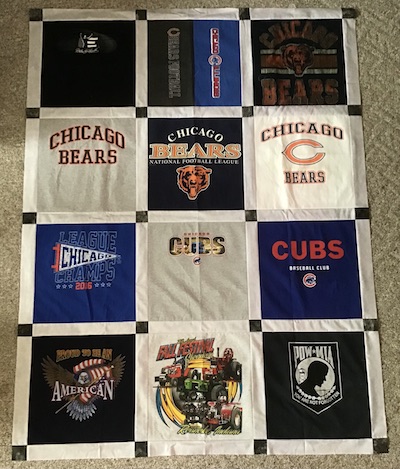 Each top has different sashing fabric provided by customer.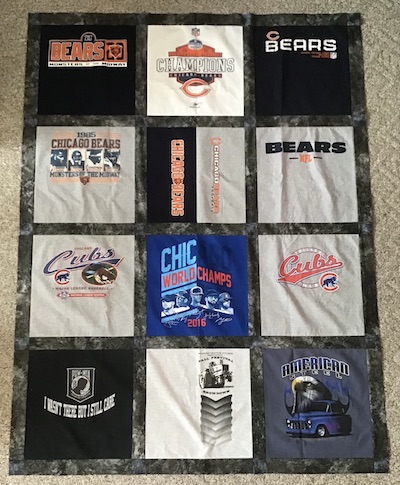 I'm delivering tops to longarm quilter today.
2. At Wednesday sewing group I cut out knit fabric to make turbans for cancer patients. No photo.
3. ???  Mystery sewing! I didn't get back to the Sew Steady class PUP.
I placed an order June 18th and it arrived from Primitive Gatherings Friday. I'm starting a new QAL, Twilight Stars. Yes I'm that crazy! But it's star blocks! I love stars blocks! The package sat in a WI PO for several days and I was afraid it had been lost! Then the tracking finally showed movement. I ordered the supplies the first week of the QAL which is now in the fourth week. I hope to catch up! Two blocks are to be made each week.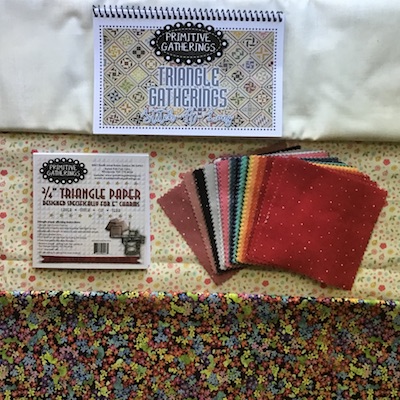 Book used for the QAL, triangle papers, and possible fabrics I'll be using.
That's it for my sewing this week.
Here's the latest at my daughter's house -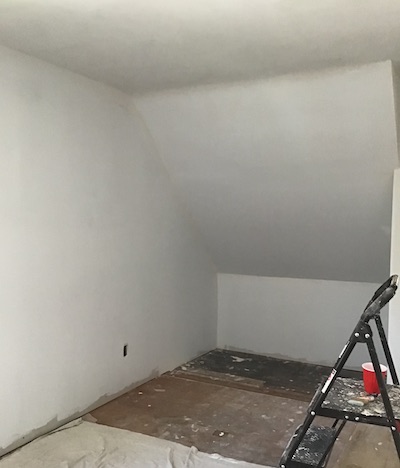 Priming bedrooms continue. Once painted, daughter will have to decide on design for closet area.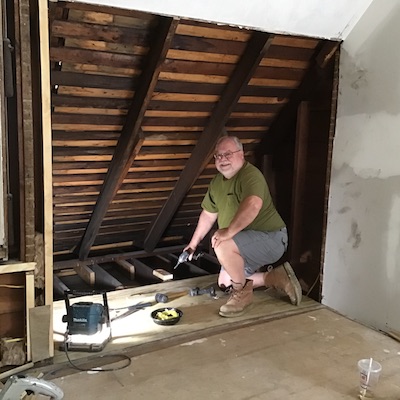 Closet in eves in main bedroom is moving forward. Insulation between floor joists and new boards going in. Hub is smiling! This will be the last area to frame in.
There is the kitchen, but let's not talk about that! Daughter wants to move in once the bedrooms and bath are completed. She says she can live with the kitchen as is for a while.
I've a short To-Do list for this week -
To-Do Tuesday, July 11, 2023
Twilight Stars – will I catch up before the new blocks are shared this Friday?
I have an idea for a Christmas Countdown I'd like to get started on to gift to my grands by the end of November. That means starting two new project. Hmmm.
That's it for this week.
Linking to To-Do Tuesday hosted by Carol of Quilt Schmidt.