Wednesday, February 23rd, 2022
Now that I'm sitting down to write a post, I see that I have accomplished some quilting this week. I had a two day headache and wasn't 'braining' well. Oh those severe changes in weather do bring on those headaches. Blah. After tempts in the teens, we swung up to 50F and all the snow melted. Now we are back down in the 20F and expecting more snow.
Anyway, here is what I did sewing wise this week.
To-Do Tuesday February 15, 2022
Continue piecing Nebula background  ✔️
Keep hand stitching EPP Homage to Grandmother's Flower Garden ✔️
Granny's Garden ✔️
1. Continue piecing Nebula background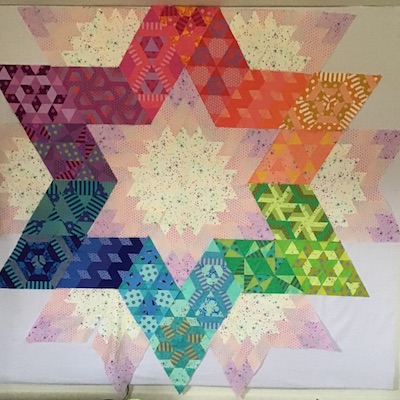 Piecing is coming along and I'm playing with the layout. My design wall is not big enough to hold a queen size quilt! Top pieced triangles are folded under. I have more background pieced, but not pinned in place.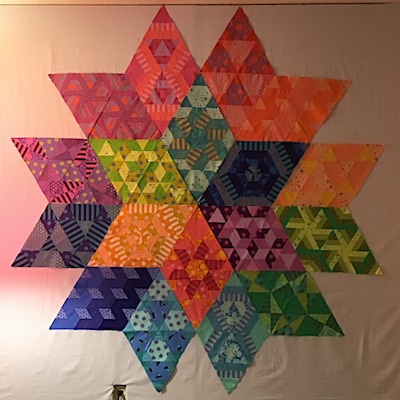 Poor photo, showing the original layout with no background. I'm liking the open star in the first photo.
Finishing background is my One Monthly Goal for February, so that is priority now. Get 'er done!
2. EPP Homage to Grandmother's Flower Garden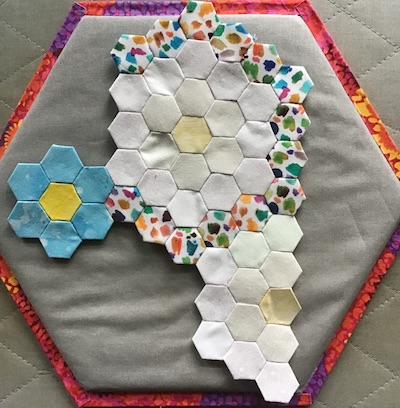 Week 3 complete. 1/2″ hexies.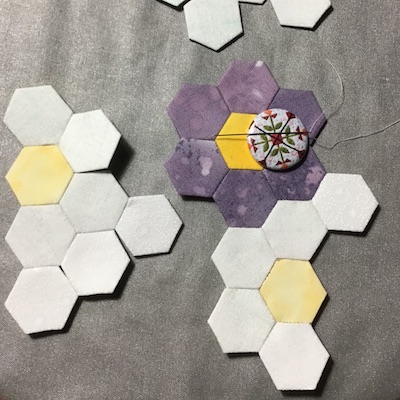 Week 4 progress.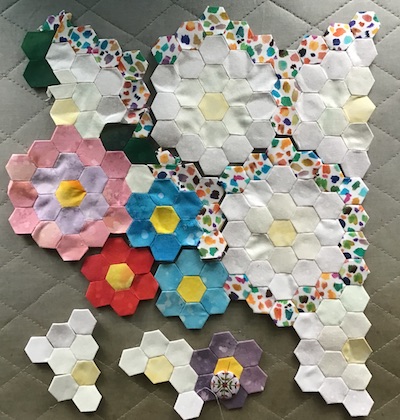 Where I'm heading. Weeks one – three lay out with bits of week four in progress. I work on this for an hour or two in the evening while watching tv or a movie. The quilt along is on week 8, I'm slowing catching up.
3.Granny's Garden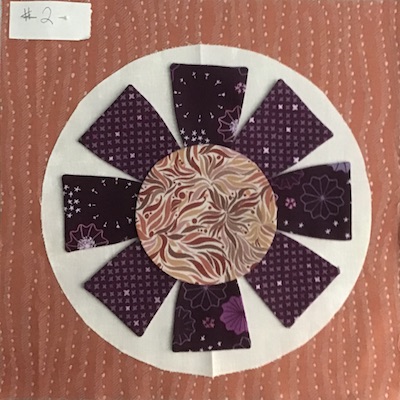 This is the second block for Granny's Garden almost ready for machine stitching.
I still need to organize the pieces for the next 40 blocks to streamline production. Each of the 42 blocks will have flowers appliquéd to the cream background circle. I'm thinking of prepping all the backgrounds first. Then they will be ready for each flower. I started by prepping the flower pieces, switching to the background might get me to seeing more finished blocks!
To-Do Tuesday February 22, 2022
End of month is coming 5 days! Have to finish background pieces for Nebula, my OMG.
Hand stitching EPP Homage to Grandmother's Flower Garden, finish week 4.
Granny's Garden, prep background circles if I finish Nebula background.
Linking to To-Do Tuesday hosted by Linda of Texas Quilt Gal.