Monday, February 7th, 2011
I've been oooh-ing and aaah-ing over several blogs this past year that are all about art journaling. The journals all look so lovely. There are so many types and techniques shared in blog land, that I finally decided to just take a deep breath and jump in! First, I bought Dawn DeVries Sokol's DVD Art Journaling, Pages in Stages. I bought watercolor paper and have painted a book full of background pages. I really like her DVD, easy to listen to and follow her directions.
Other ladies I'm watching are  Julie Fei-Fan Balzer and the group she has going called Art Journal Every Day, Mary Ann Moss, Diana Trout, Kelli Perkins, Lenna Andrews. Each have their own personal style and all share 'how to-s' on their blogs. And since I like sewing, I keep an eye on the fabric journals too. Gals like Sue Bleiweiss, Terri Stegmiller, & Rebecca Sower.
With so much inspiration, I'm trying my hand at several techniques, playing around, and hopefully finding what will be 'me,' what I'll be comfortable with to make art journaling a part of my everyday life.
Here's what I've been playing with so far.
Two pages, in their various stages from the DVD Pages in Stages, coming along just fine I think.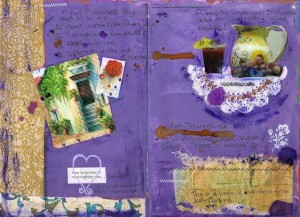 Another Pages in Stages, layering just beginning -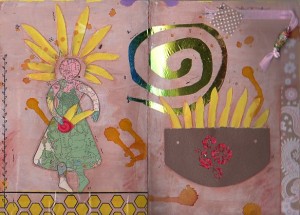 Playing with sewing on to the page -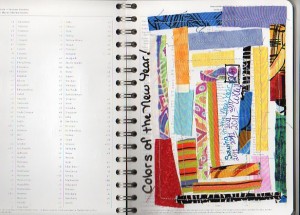 The next two are from ideas shared on Art Journaling Every Day. Creating a background on watercolor paper. I used watercolor pencils.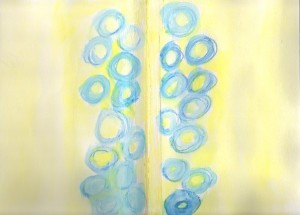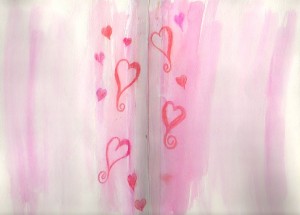 And the last two pages are my attempt at sewing shapes along the edges of watercolor paper. I will add watercolor pencil in or around the sewn shapes. The first page also has a fabric strip sewn down the edge. I really like the shapes on the second page.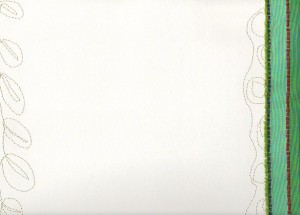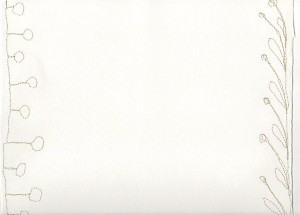 So you see, this is just a beginning. I've got lots to learn and more to try.