One of the things my hubby and I like to do is hang out at Barnes and Noble. I usually head to the Arts and Crafts section and then go to the magazines. Hubby heads for the photography section and then checks out the bargain books. Many times, but not always, we share our finds with each other, explaining why we think it is such a good book and then deciding if it should be placed on our ever growing wish list.
Several months ago, while at B & N, Hubby came up to me while I was flipping through Keri Smith's book Wreck This Journal. I had read about the book and now I was giggling as I flipped through it. I told DH that I would one day buy this book. That day came yesterday! I happened upon Jamie Ridler's blog and saw that she is hosting a book club using Wreck this Journal. So I high-tailed it over to B & N and bought the book.
When I got home, I paged through it and thought this will be a lot of fun and a bit intimidating. Will I be able to take it in the shower with me or drag it around the neighborhood? My gracious! But I jumped right in and "cracked the spine!" thinking that would be a good place to start and documented the purchase of the book.  Then I picked a blossom off my Christmas Cactus that has decided to bloom in June and pressed them on the appropriate page. And yes! it did bloom around Christmas too! What is it doing – over active plant. And I so do NOT have a green thumb.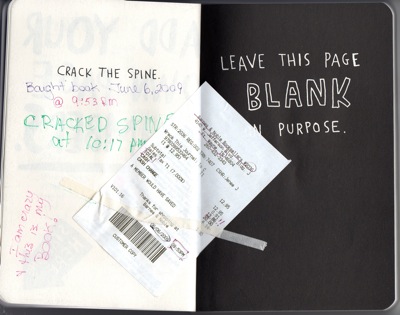 So here is the beginning of what I think will be a crazy wacky summer of wrecking a book intentionally! I look forward to stopping by and visiting my fellow journeyers.  And Jamie explains on her blog that it is never to late to join in. So check out her blog if you think you might be interested! (see link above)
Tags: Blogging, Jamie Ridler, Journal Journey