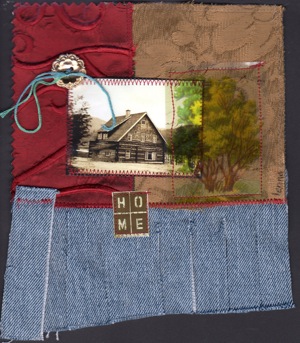 In today's mail I received this lovely fiber art piece from none other than Creative Lenna as part of her  participating in the Tapping into Generosity Project 2009. Lenna made the home theme for me because she knows of the 99% possibility that my family will be moving out-of-state due to my husband's job search. She said in her note to me, "I know you don't want to move … hard for everyone, but I think you will find a new "home" for you and your family."
I know Lenna is right, we will find a new home. We will all adjust and life will continue with smiles on our faces. Thank you Lenna for the encouragement and the lovely fiber art!
Now, about the Generosity Project. I have linked to Lenna's page which explains it, but I do not know who originated the idea. I followed several links, but it seems to go on and on! (If you know the origin, please let me know so I can give credit! Thxs!)   Here is how it goes: since I added my name to the draw on Lenna's blog, I am now to offer a generosity meme on my blog. It is about making something with my own hand, from the generosity of my own little heart, and then giving that something to five people who comment about the project on this blog. The hope is that if you sign up for the drawing on my blog, or anyone else's, you will continue the generosity meme by holding a give-a-way on your blog. Sounds fun! I I love the gift I received from Lenna so I hope I have lots of responses on my blog! I will randomly draw 5 winners next Monday, June 15th.
I have copied the following from Lenna's page and it applies to my generosity meme :
"This offer does have some restrictions and limitations so please read carefully…
I make no guarantees that you will like what I make. No refunds… and no exchanges!!!! What I create will be just for you, and handmade with love from me. It will be created sometime in this calendar year (2009) and sent to you, and when you receive it, you will need to let me know it has arrived.
I will not give you any clue what it's going to be. It will be something made in the real world that I'll decorate and send to you through the US postal system. It will not be something cyber. It will be handmade, it could be any size, and it will be created from my heart in any medium I choose. I may take my time or I may make it quickly. I reserve the right to do whatever comes to mind when I create something for you!
The original meme requires you to post this text (or similar) into a note/blog post of your own and then make 5 things for 5 people who respond to it. I'm not going to require that of you. If you would like to do this generosity meme too, that would be great. I encourage you to participate and generously create, but it is not a requirement in order to enter and win." This meme does not have to be an art or craft – we are all creative in our own ways. I do hope you will join me in this! Leave a comment and I will get back with you on June 15th. You will have to leave a way for me to contact you and a mailing address if you win.
I have no idea what I will create – a quiltie?  – some felted piece?  – or applique? But I am looking forward to this project! Hope you join me!
Tags: Blogging, Fiber Arts, Friends, Generosity Project 2009, Give-a-way