Here is the progress on several of the canvas round robin bags that have passed through my hands. For the Flower Garden theme bag, I made Prairie Points using two fabrics (notice the yellow center of the prairie points) and then added some silk flowers and buttons. They are actually sewn on a vertical seam of the bag but I rotated the picture to post …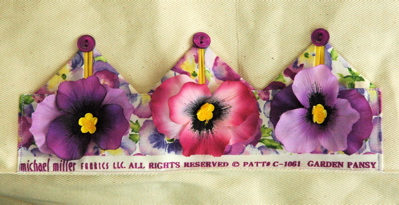 Next I played with Dimensional Applique, (see The Quilting Arts Book by Patricia Bolton, page 76) making several leaves as described by Heidi Lund. These are so fun to make! Here are three of them added to the Autumn theme bag. I also added the hand died variegated ruffle on the top edge of the bag.  I cut the ruffle from a piece of fabric I  won from a drawing held on  Kelli Perkins blog. (Thank you Kelli! Do you recognize it?!)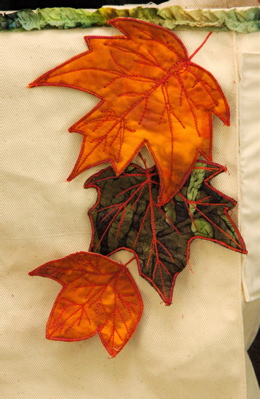 Then  I played more with the dimensional applique, making bird feathers for the Bird theme bag. And I also played with painting on fabric with using Setacolor paints and salt to create the letters 'B' 'I' 'R' 'D'  which I sewed on the side of the bag and then attached the fabric feathers and a real feather.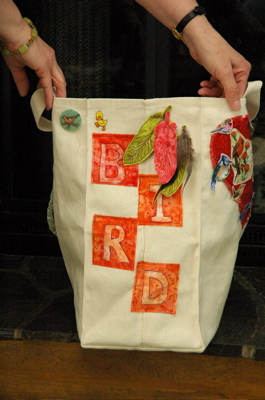 I am trying to experiment with new to me techniques as I work on the bags. So far the dimensional applique and fabric painting has been the most rewarding!
So friends! How about signing up for the Generosity Project as I described here? Just leave a comment here and you may receive a gift from me, made by my own hands – hmmm, how about some dimensional applique or needle felting!
Tags: Canvas Bag Round Robin, Friends, Generosity Project 2009