Wednesday, September 9th, 2009
Crafting has been slow in my life lately. Seems most of my time is taken up in the life of my teens – new school year and all. Volleyball games and such, all fun! I did work on this canvas bag with the theme of Raggedy Ann and Andy. (Sorry the picture is not very good – it is a scan not a photo.) I added the yo-yo hearts, wool yarn vine, couched over stamping and fabric painting.  I'm new to yo-yo hearts and I found them easy and fun to make using Clover's heart shaped quick yo-yo maker! I tacked them down with red embroidery floss. (Have you seen Calamity Kim's amazing yo-yos?) I stamped the background with Fabrico craft ink in Cerulean Blue using side B of Stampendous! Texture Cube. Once dry, I color washed over the stamping with Lumiere Pearl Blue. Next I couched the yarn in place using the zig zag stitch on  my sewing machine and then added the yo-yos.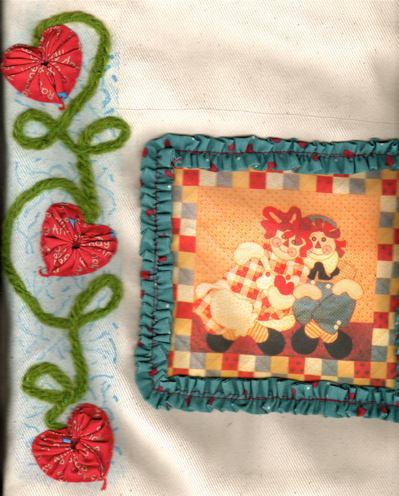 I'm also working on the binding for the quilts for my parents (two twin size his and her quilts.) And having been inspired by Kim, I'm going to do more work on the yo-yos I'm sewing on to my mother's quilt. I'm just stitching them in place now along with leaves around an appliqued vine. But I plan on going back and stitching them around the edges with floss. Don't think I'll add beads as it is a bed quilt intended for daily use. Thanks Kim for the inspiration!