I've been showing my little quilties I've received from Creative Lenna's swaps to my quilting friends. If you have ever thought of joining a swap, check out Lenna's blog. She hosts more than just quilt swaps. And even if you don't participate – it is a very fun look!
My friend, Teresa, has just received four greeting cards from her first ever online swap! She did a web search and found a card swap that interested her. Her husband laughing said to me, "See what you have started!"
That is not the only thing "started". Teresa thought our quilting group should host our own swap, so she organized an altered canvas bag swap. Actually, it is a Round Robin. There are 12 of us in the group. We each received a canvas bag, with a pocket created by Teresa, sewn on the inside. We each pick our own theme for the bag, tuck items that coordinate with the theme inside the bag, start to embellish if we wish, and then pass it on to the next lady. The items in the bag do not have to be used, but give an idea of what you mean by the theme selected. We have one month per bag and should receive our completed bag in October of 2009.
There are some pretty good themes selected: Cheerful Spring, Autumn, Butterflies, Music, Birds, Raggedy Ann and Andy, Botanical/Herbs, Flowers, Country, Christmas, Mary Englebrite, and Travel.
My bag is ready to go. I have added some patchwork down one side of the bag. My theme is Flowers. Ok, a bit boring, I should have thought a little longer and narrowed it down a bit. But I did put together a nice assortment of buttons, silk flowers, ribbons and fabrics that should help direct the ladies. The fun thing about a Round Robin is the mystery of it all! You never know what you will get back, but I always love the creativity expressed!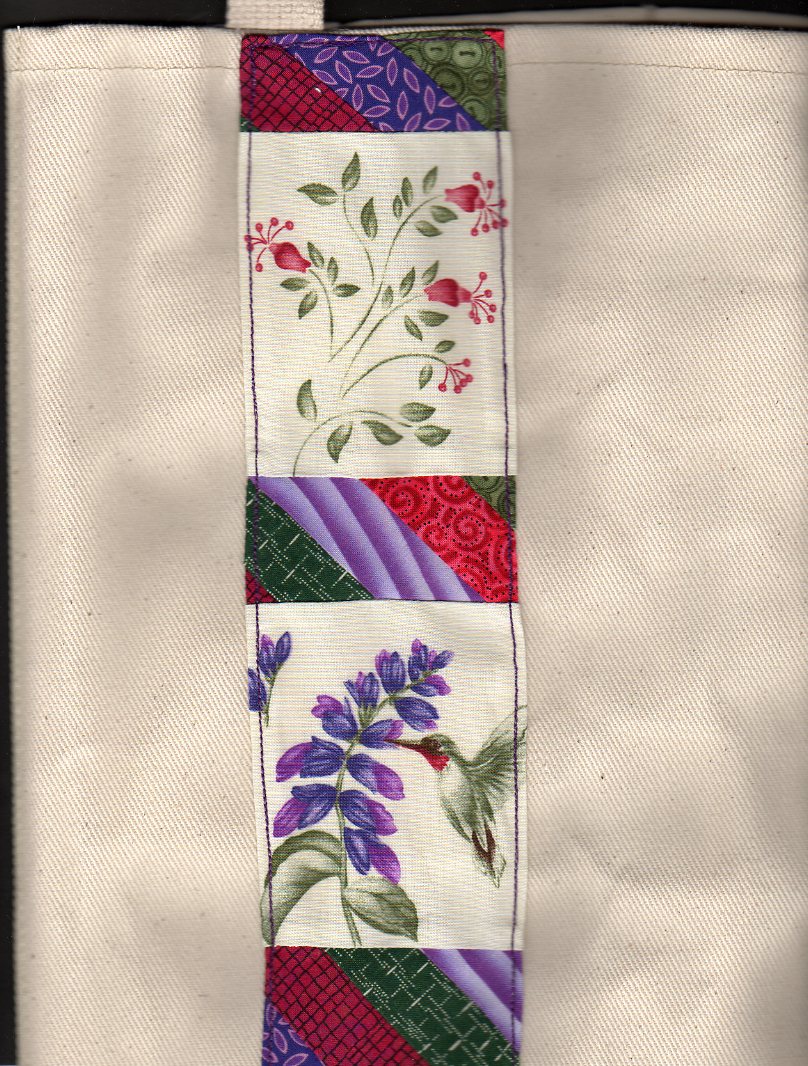 Tags: Canvas Bag Round Robin, Friends, Swaps