Tuesday, October 1st, 2019
I love Autumn! It should be a time of crisp weather and lovely changing colors. So far we are having record highs, it was almost 90 degrees Fahrenheit yesterday! And so far our Maple tree is turning brown instead of shades yellow, orange and reds. I'm hoping it will soon surprise me with it's color brilliance!
On to quilting – Yippie! I finished the Hexie Panel quilt!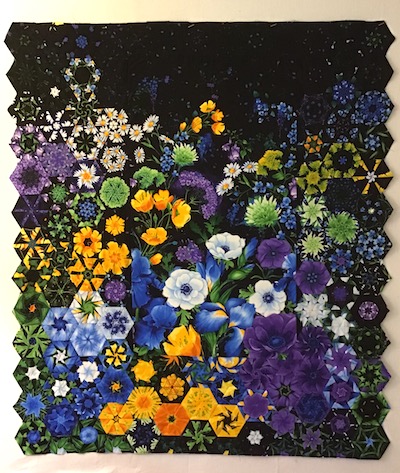 Read all about it in this post.
I need to buy a back for the Hexie quilt, and luckily the LQS is having a moving sale! 30% off. I try to buy backs from the clearance wall, but didn't see anything I liked with enough yardage on the bolt last week. But I just got a notice from the shop, Edward's Sewing Center, that they just added 200 more bolts to the clearance section, so I'll run over again to take another look. 30% off their already discounted clearance section is hard to pass up!
Happy Little Things BOM embroidery for the block is complete.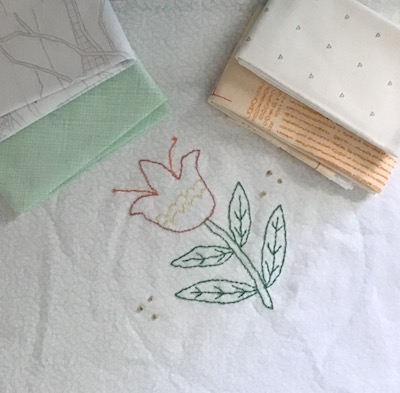 One little goal for this week is to do the piecing with the fabrics shown. That way I'll be ready for when block 3 is released.
My big goal for October is going to be to finish the quilting on a much neglected quilt.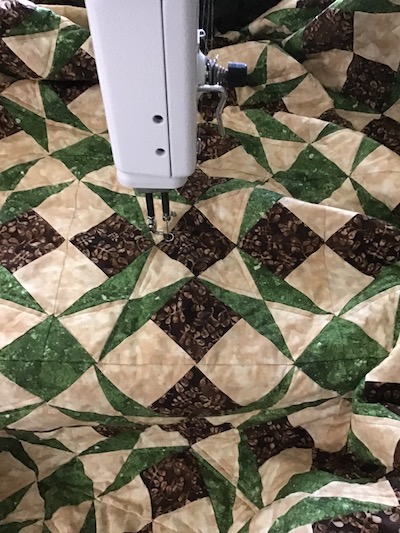 This was supposed to be a wedding quilt for my son and DIL. I was hoping to have it completed by their first anniversary. They will be celebrating their 7th anniversary this month! I better finish it before the cold weather sets in or another year ticks by!
I did at least half of the quilting on it last month, so now is it a WIP or still a UFO!?
Last To-Do List:
Keep working on Hexie Panel quilt. ✔️So happy! Quilt top all pieced!
To-Do List:
Finish September's Happy Little Things block
progress on son's wedding quilt
Linking to To-Do Tuesday