Down to the wire! I was beginning to think I'd miss my goal for September, but phew! made it!
I did quite a bit of seam ripping. But finally got the hexies all properly lined up and spaced out. I sewed all the hexies together like a picture frame to be placed over the panel.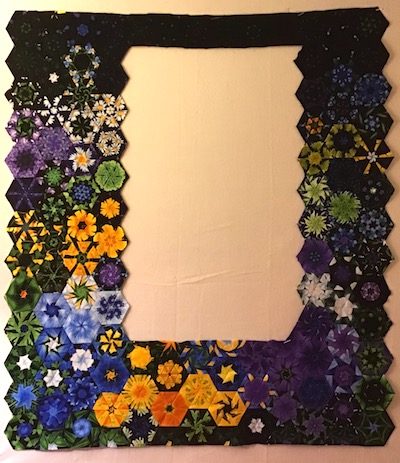 Photo above shows the "picture frame" with inner seams all pressed under 1/4″ and ready to be pinned to the panel.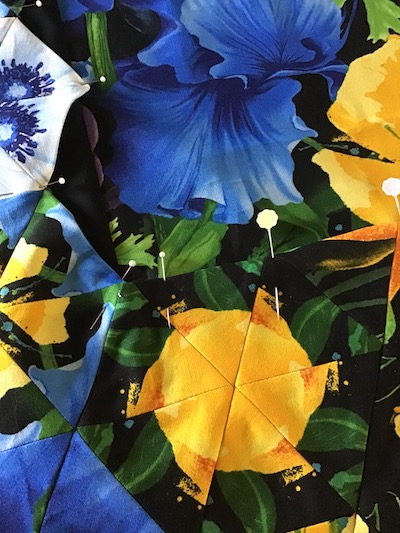 Close up of hexie frame pinned to panel
And TaDa! The picture frame stitched in place on the panel.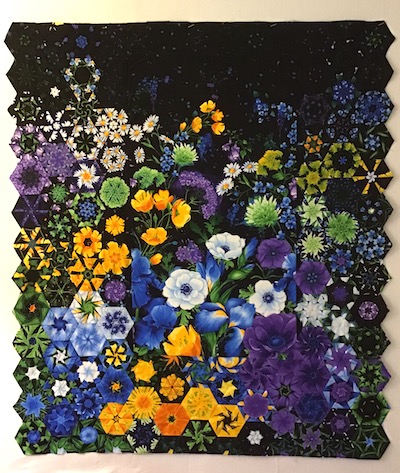 Finished feels good!
My goal for September was to finish the Hexie Panel quilt top. I should explain that this was a demo I saw at the Shipshewanna Quilt Festival but I did not buy the book _One Block Wonders_ by Maxine Rosenthal. My quilt is made with a variation of the old Stack-n-Whack method. I used 7 panels to make this quilt. 6 panels piled exactly on top of each other with the floral print all pinned to line up. Then cut into strips, I cut at 2 3/4″ and then used a 60 degree ruler to cut triangles. Each cut should give you 6 of the same print, and when sewn together give you the kaleidoscope hexie. Those hexies are sewn around the 7th uncut panel. Cool! I'm loving it!
If you like this quilt and want to see more truly amazing panel quilts, type in 'one block wonder panel quilts' at Pinterest. And be amazed!
I'm placing this quilt into the 'to be quilted' pile for a while. Next up, my son's wedding quilt. More about that in October's OMG post!
Linking to Elm Street Quilts One Monthly Goal. Hop on over to see what other quilters worked on during September.
Tags: One Monthly Goal