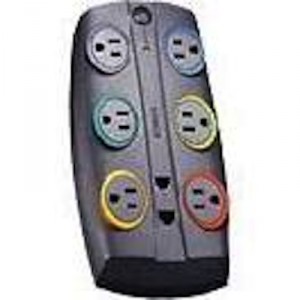 Ladies! Do you have your computer, sewing machines, iron, and any other valuable appliances plugged into a surge protection strip?
Fortunately, I do! We have had electrical power problems at my house for the past week. I first noticed it last Wednesday morning when heating water in the microwave for tea. The microwave powered down. When that happened, my first thought was that it was dyeing and there would be an unexpected expense to replace it. Then my sewing machine cut off while sewing and the lights started to flicker. As the day went on other odd things happened. The washing machine didn't have enough power to spin the water out of the tub. The television cut off. The surge strip the computer was plugged into was heating up, buzzing and smelling of that electrically heat odor. Needless to say, I turned all appliances off and unplugged them. Perhaps not soon enough!  A call to the power company, and a 5 day wait, they finally came out to diagnose the problem. There was/is a damaged wire somewhere between the utility pole and our house. Late this afternoon another team came out to do a temporary fix. So, I am up and running again! The microwave is working. The computer is working, but the surge strip it was plugged into is fried! That is why I'm giving a little plug here for safety! Use surge strips ladies! I might not have a working computer if not for the use of a surge strip! It is toast, but the computer – plugged into yet another surge strip – is working!
So, do you use surge strips?
I have one at my sewing machine, another at my cordless iron, two in the bedroom for c-pap machine, phone, and Nook. I recommend using them on any appliance you don't want to have to replace in the event of an electrical problem!
Not much sewing done this week. But for those following, I did finish 4 charity quilts. And forgot to take photos of them before delivering them! I'll take photos of the next batch … hopefully.
Linking up to Connie's
Linky Tuesday
. Hop over and see what the other ladies are up to this week!
Tags: Power outages