Tuesday, November 18th, 2014
New Book! Newly arrived in my mail box!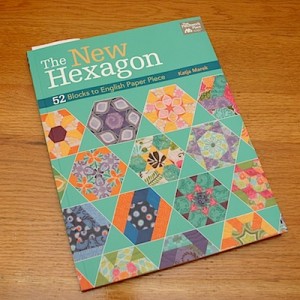 I won Katja Marek's new book The New Hexagon over at Linda's Quiltmania Blog. Believe me! I was so excited when I read her email informing me I had won the book!  Imagine my surprise when I received another email the next morning from Carla of Grace and Favour Blog announcing I had won another copy of Katja's book! I was thrilled! But, in all fairness, I replied to Carla letting her know I had heard from Linda the night before stating I had won her copy! Carla could draw another winner. Really, what are the odds!? Three blogs promoting Katja's new book with a give-away and I won two of them! And yes, I did enter all three give-aways! I rarely win when I enter these things, Carla said it was time to buy a lottery ticket!
The New Hexagon looks like a great book. 52 English Paper Pieced blocks – which one will I start on first? Time to get to some handwork!
Next up, curves!  I'm using Jenny Pedigo's Quick Curve Ruler and Curve it Up booklet and having lots of fun!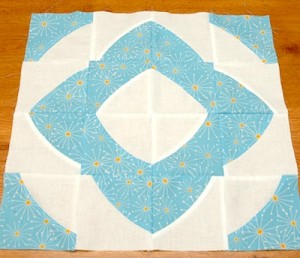 Drunkard's Path Variation Block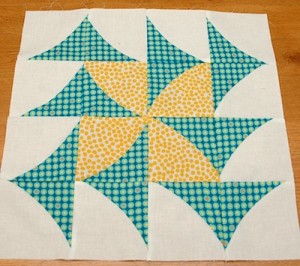 Curvy Geese Block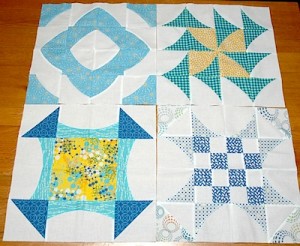 My goal is to sew up one block per week, fitting this project into everything else going on.
Chair Update! Monday night was our last class. The chair is not complete, but very close.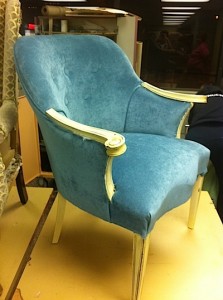 See that hint of gold chair on the left of my blue chair? That is the wing chair my daughter is working on! It is so lovely with gold clam shells.
On my chair, the back and side panels are now attached. Next up, more cording needs to be glued in place to cover the staples on the arms. Then I'll add more cording to the bottom edge for a decorative touch. The last step – the bottom dust cover needs to be stapled in place and she will be finished!