Another week speeds on by! I'm still hoping to get caught up on Homage to Grandmother's Flower Garden, pattern by Katja Marek. But, alas, I'm actually falling more behind. I started several weeks late waiting for supplies to arrive. The quilt along is on Week 33 and I'm just on Week 22. Oh well! I do enjoy my evenings of EPP even if it will take longer than a year to complete the quilt.
Here's how my sewing and quilting week progressed -
To-Do Tuesday, August 9, 2022
EPP Homage to Grandmother's Flower Garden, attach week 20 to quilt. ✔️
EPP – start week 21 ✔️
Wednesday, meet with DIL to cut backing and batting for mug rugs. And maybe some heart shapes for pillows. ✔️
Meet with quilt friends Friday for a sewing day. Take EPP. With a full day to sew, I'm hoping to get to week 22 and maybe even 23 of Homage to Grandmother's Flower Garden! ✔️
Stitch "Gene" on to bag. ✔️
Progress made this week -
1. Homage to Grandmother's Flower Garden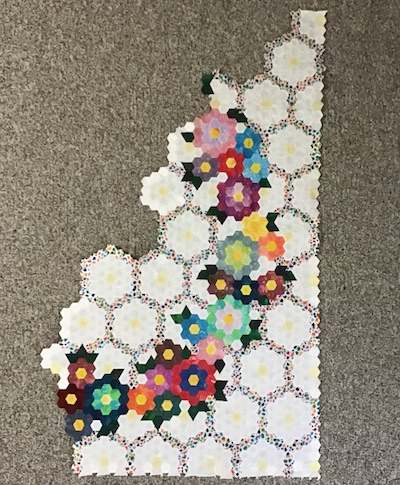 Weeks 1 – 20 all attached!
2. Week 21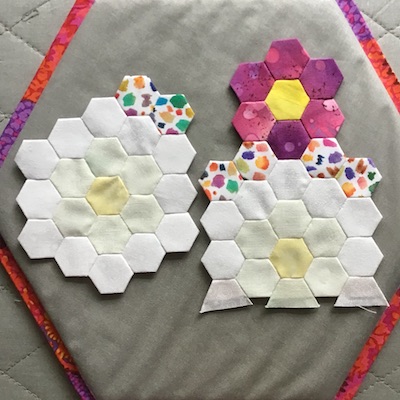 Stitched and ready to attach to Homage to Grandmother's Flower Garden.
3. Mug Rug kits all made and packed for a future sewing day.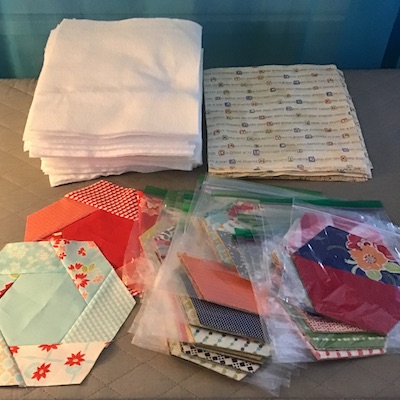 My DIL and I cut batting, backing, half hexies, and used precut hexies for 43 kits for Mug Rugs. These will be sewn up later in the Fall by ladies at our church to gift to school teachers at Christmas.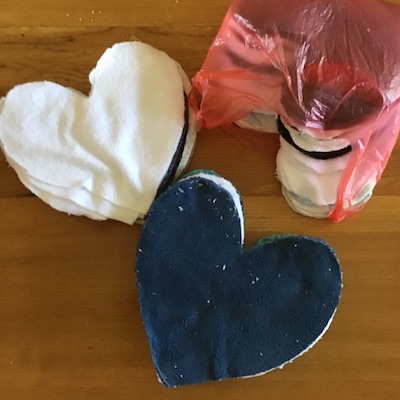 We also cut out 39 pairs of hearts for pillows that will go to a local hospital. Some one has to sew these up and stuff will poly fill! Wink wink!
Update! DIL came over Monday and made great progress on sewing heart pillows together!
4. Sewing day with quilty friends. Apparently I get more handwork completed at home than while visiting with friends!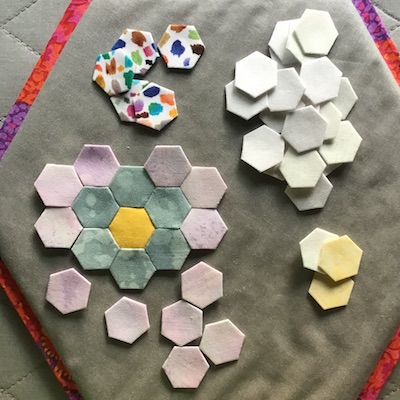 Some stitching did happen on Week 22 of Homage to Grandmother's Flower Garden. But I didn't get to Week 23!
5.  Canvas Bag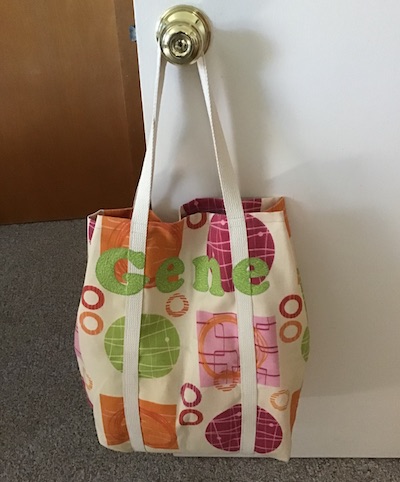 "Gene" stitched up nicely on the canvas bag. My machine didn't have any problems stitching through the heavy straps.
Other quilting that happened -
With two of the four clothing quilts for a grieving family actually quilted, I got busy with making flange bindings and got one quilt bound.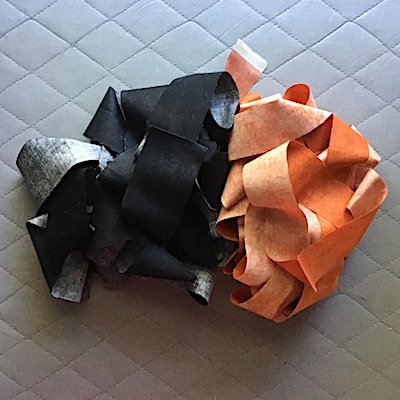 I made a flange binding using 1 1/2″ strips of orange for the binding, and 2″ strips for the flange.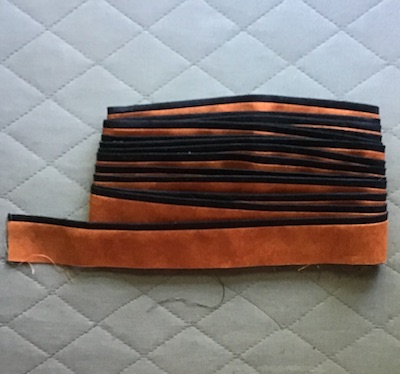 Binding strips sewn together and pressed, ready to sew on to quilt.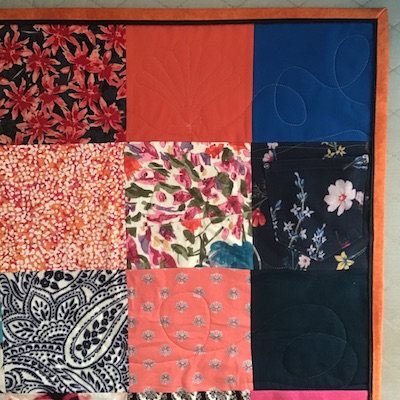 Binding is sewn on to the back of the quilt and then flipped to the front. Machine stitch in the ditch between the flange and binding through all layers of binding and quilt. Photo above is showing part of the quilt top with simple meandering quilting with an occasional sea shell, and flange binding.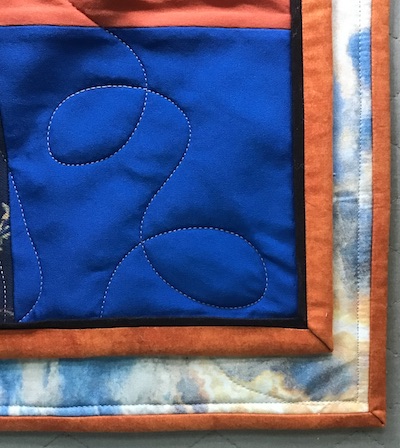 This photo is showing front of quilt with flange binding and the back where it looks like a regular binding. The ditch stitching between flange and binding shows up as straight line stitching on the back. I'm pleased with how the binding turned out. The flange is looking black in the photos, it is really a mottled dark blue fabric.
I just got word that one of the recipients of the clothing quilts is in town this week. Perfect timing to gift a finished quilt!
To-Do Tuesday, August 16, 2022
EPP Homage to Grandmother's Flower Garden, attach week 21 to quilt.
EPP – continue week 22
Wednesday – meeting with church friends to finish some heart pillows.
Friday – friend graciously allowing me to return to use her longarm and quilt the last two clothing quilts.
Maybe work on a PUP –

P

reviously

U

nfinished

P

roject! Isn't that a cute acronym? Coined by a quilting friend. I've not heard anyone else use it. So I'll give her credit. Hello Ruth! I like it better than UFO.
Linking to To-Do Tuesday hosted by Linda of Texas Quilt Gal.
Tags: To-Do Tuesday