I'm not sure where my mind was yesterday, but I sure had a dickens of a time sewing together this simple signature block.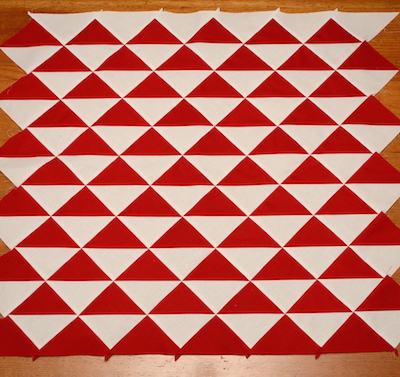 When I was calculating yardage and the number of HSTs I would need to make a 24″ square finished pillow, I totally forgot that the plan was to set the HSTs on point! The photoed piece is measuring 24″ top to bottom, which means I will have to add a bit of a border. Or, maybe not, will half of an inch matter when stuffing the pillow form into the pillow case? It will be 24″ square once I trim off the HSTs on the sides.
Feel free to leave your opinion in the comments on whether I should bother adding a tiny border to this piece. Would you add one, or not?
There is a red t-shirt that I am to use for the back of the pillow. I also forgot to buy velcro for the closure. To prepare the block for signatures, I will press a fusible interfacing on the back side of the HSTs block. I'll use Pellon P44F, which is the weight I like for t-shirt quilts. The fusible interfacing will add just enough stability for writing with a Pigma Micron pen, but will also leave the pillow soft and comfy. I'll quilt in the red triangles, or maybe in the ditch using a white thin cotton batting. I have scraps, so not sure of the brand name and will back the quilting with muslin. Once the pillow is complete with a t-shirt back and black piping, it will be washable and durable. I pre-washed the fabric, so there should be no color bleeding, always a fear with reds. I will instruct the owner to always wash in cold water and to use a Color Catcher to be on the safe side!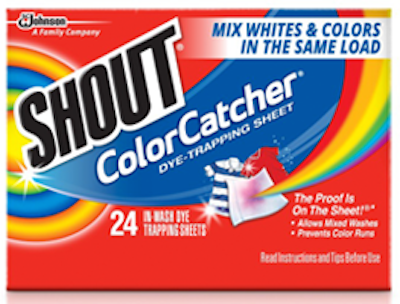 Today was another Curvy Quilters sewing day! I worked on a UFO, the Timeless Traditions BOM.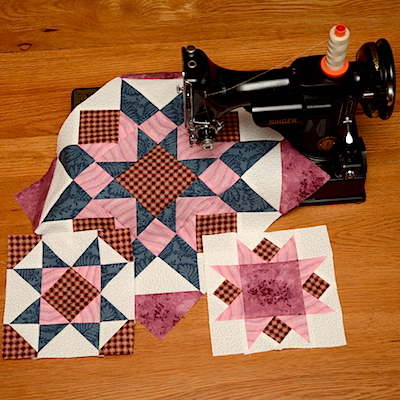 I finished the  2 – 6″ blocks and 1 – 12″ block for month 6. There are 7 more pieced blocks and 4 appliqué blocks to complete before setting them all together. Then borders and more appliqué. I hope to have this quilt finished for a Christmas gift. I told my Curvy Quilter friends we need to meet more than once a month so I can finish this quilt!
Cuteness alert!
This is my 16 month old grand daughter learning to drink from a camel water pack! We had a delightful walk at a state park Sunday with most of our adult children joining us. But this is the only picture of the youngest in the family with her dad and me! I don't know why we didn't think to stage a decent family photo!
How did I do on last's week To-Do List?
Hobo bag made from t-shirts. ✗  Didn't get to it.
HST signature blocks – 24″ pillow with t-shirt back. ✔︎ Pieced!
Setting aside Bargello to complete #1 & 2. Might get back to Bargello if time allows. If so – borders!
To-Do List for this week:
Finish Signature pillow.
Bind t-shirt quilt.
Construct Hobo bag.
Work on BOMs, Timeless Traditions, Machine Quilting Block Party, One Block Wonders if time allows.
Linking to To-Do Tuesday and Linky Tuesday.
Tags: Linky Tuesday, To-Do Tuesday