King Size Bargello in the making! Here is the Wave 80″ square. Borders up next. Then some appliqué!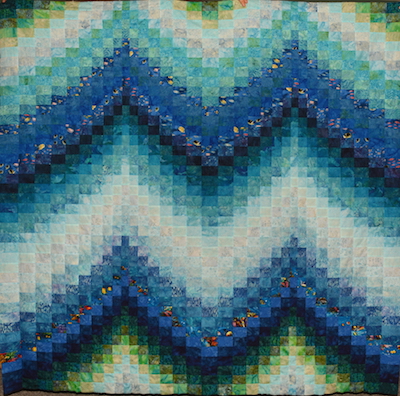 As it is a new month, I have downloaded and pieced May's block for the Machine Quilting Block Party.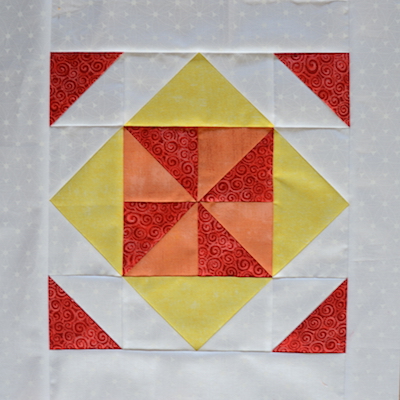 At my last Curvy Quilters sewing day I pieced the three blocks for Month 5 of Timeless Traditions. This BOM is on my UFO list.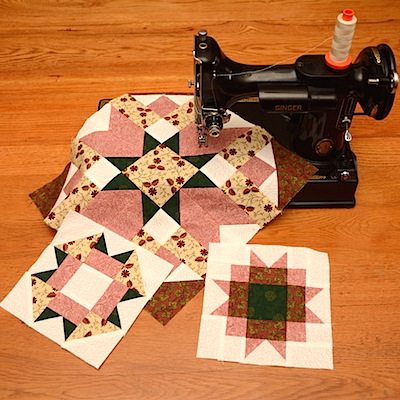 All the blocks for this quilt are being pieced on my Featherweight sewing machine. There are 4 blocks of appliqué and also an appliqué border, so I will be switching to my Janome for that. I like using a blanket stitch for machine appliqué which is not available on the Featherweight.
Just wondering, have any of you Featherweight owners ever used it to machine appliqué? Straight stitch, perhaps?
How did I do on last's week To-Do List?
Bargello quilt – keep doing the wave! ✔︎ 80″ square waves complete!
T-shirt quilt – borders, prepare binding, deliver to longarmer. ✔︎ Delivered to the longarm quilter!
To-Do List for this week:
Hobo bag made from t-shirts.
HST signature blocks – 24″ pillow with t-shirt back.
Setting aside Bargello to complete #1 & 2. Might get back to Bargello if time allows. If so – borders!
Linking to To-Do Tuesday and Linky Tuesday.
Tags: Linky Tuesday, Machine Quilting Block Party, To-Do Tuesday