Or at least like I'm finally focusing on a few things from my quilting to-do list, after being under the weather for a few weeks.
The Bargello strips from last week are starting to do the wave!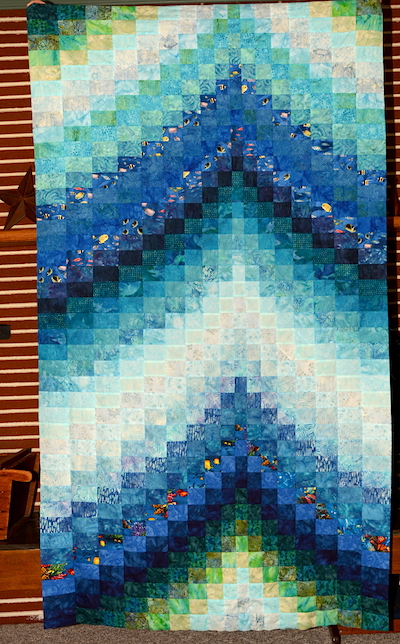 Just over half way there! This panel is 43″ x 80″ and I'm heading for 80″ square! This is step 2 in the sewing process. After the wave is complete, there  are borders to attach and appliqué motifs to create and attach.
The t-shirt quilt top I'm finishing for a friend is coming along.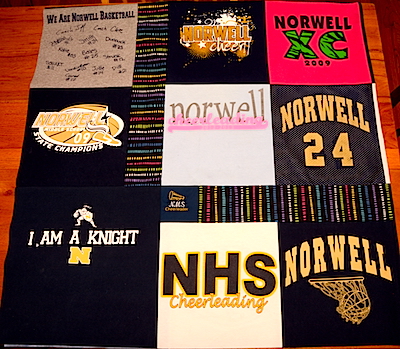 The photo is showing only 1/4 of the top. I have 2 borders to add before it goes back to my friend for longarm quilting.
Good mail day! I actually have had a few recently!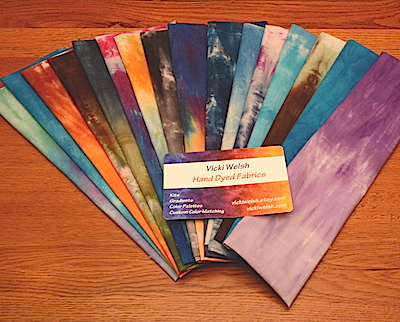 I won a drawing on Vicki Welsh's blog for particapating in her monthly UFO busting. She said she would send me scraps of her hand dyed fabric and look what she sent! Oh so gorgeous! But scraps? Some of those pieces are almost an 1/8 of a yard! Very generous! Thank you Vicki!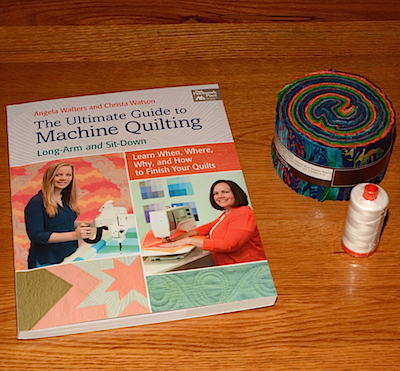 I also won a drawing on Christa Watson's blog for particapating in her Facets Quilt Along! I won the Batik jelly roll and the Aurifill Thread she sales through her online store. Follow the links on her website to her Amazon store and pattern store. My dear hubs bought Christa's latest book for me, which is co-authored with Angela Walters. Thank you Christa for hosting the Facets Quilt Along!
I'm pleased with what I have accomplished this week! How about you!?
How did I do on last's week To-Do List?
Bargello quilt – cut & position & sew that Bargello wave. ✔︎ Half of the way through that wave!
To-Do List for this week:
Bargello quilt – keep doing the wave!
T-shirt quilt – borders, prepare binding, deliver to longarmer.
Linking to To-Do Tuesday and Linky Tuesday.