Leah Day is running a Mystery Block of the Month this year called Machine Quilting Block Party. Each month you get instructions to piece a 12″ block with borders, and  a video link where Leah teaches how she Free Motion Quilts the block. Since one of my goals for this year is to improve on my FMQ, I signed up for Leah's BOM. Once all the blocks are pieced and quilted, Leah will teach how to attach them all together, quilt-as-you-go style.
March's block: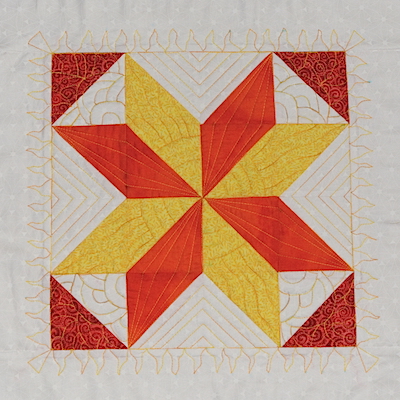 April's Block: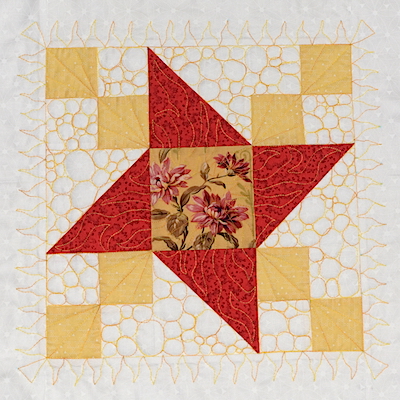 For my taste, these blocks are a bit too heavily quilted, but since the idea is to learn FMQ, I'm sticking with the plan and designs. It has been interesting to try out some of the motifs. I'm actually enjoying the process. I am interested in seeing how all 12 blocks will come together by the end of the year. Stay tuned, as I share each monthly block – and hopefully on time!
King size Bargello under way! After much math & fretting, I have decided on making 6 strip sets in 2 different color sets that once cut and sewn into a Bargello wave with equal an 80″ square for the top of a king size mattress.
Strip set one: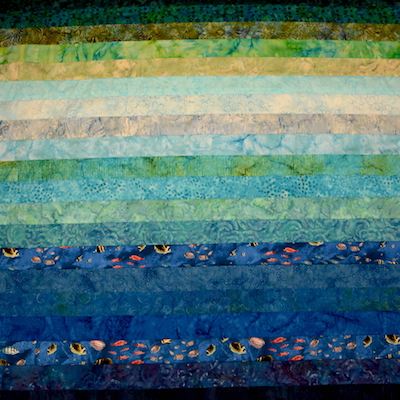 Strip set two: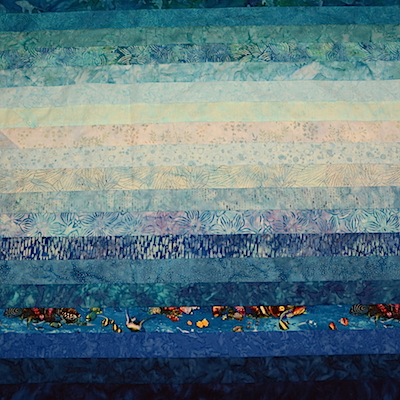 The sets are ready to be cut in various widths, and repositioned for sewing back together for that famed Bargello wave. Fingers crossed all goes well!
How did I do on last's week To-Do List?
Recover from what ever this flu-creepy crud is that is currently plaguing me! ✔︎ Yes, thank you Lord!
Keep plugging away on the king size Bargello. ✔︎ Strip sets all sewn and ready to cut.
Fit in FMQ March's Block Party BOM. ✔︎ All caught up!
To-Do List for this week:
Bargello quilt – cut & position & sew that Bargello wave.
Not exactly a list this week, but if I conquer this Bargello, I'll be happy!
How about you? Is there a project that you will be happy to get going, or even happier once you have it completed?
Tags: Linky Tuesday, Machine Quilting Block Party, To-Do Tuesday