I've made some progress on May's One Block Wonders BOM. I decided to make a table runner using 6 blocks from May's design.
I altered the 12″ May Blooms blocks to 6″ to create a 14″ x 43″ table runner. The appliqué pieces are fused in place using Misty Fuse, but still need to be stitched down. I really do like how this is looking!
I just finished machine quilting, literally – just minutes ago – May's Machine Quilting Block Party BOM.
Night time photo color is way off! That is a white background. And I still need to remove the marking for the quilting guide lines. Ugh. Horrible photo. Sorry. But hey! I'm now ready for the June block that will be posted tomorrow!
I also made progress on the t-shirt Hobo bag. The red is a t-shirt and the black batik is forming a pocket. The Batik is also the lining. The flip side is a made from a black t-shirt. More photos next time. Straps will be solid black and the batik.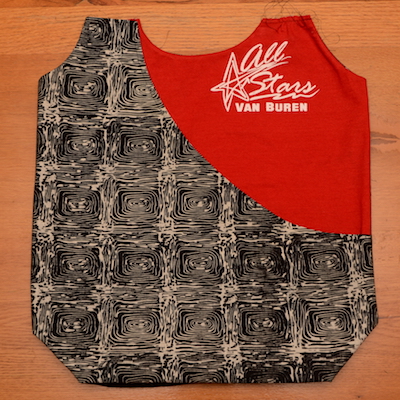 All it needs is the shoulder straps. I could have finished it last night, but decided to make the straps adjustable. Daughter and I ran errands today, and my plan was to stop at Joann's and see what kind of hardware they have. I forgot to stop! I was just down the road by a few blocks, and totally forgot. And later I was even across the street from Hancock's (going out of business) and mentioned to my daughter that I want to stop in Hancock's after we finished in the store she wanted to stop in at. We both forgot! Let's hope I can remember tomorrow!
I really am a list person and should have had a list today to remind me to stop at Joann's! How about you, are you a list person?
To-Do List for this week.
Start June's Machine Quilting Block Party BOM
June's One Block Wonders pattern should be available Friday!
Helping son pack and move.
How did I do on last's week To-Do List?
Hobo bag – making progress!
Curvy Quilters meet Thursday, I'll work on the BOMs. ✔︎
I'm adopting a WIP from a local lady. It is a Trip Around the World. I pick it up today to finish the top for her. I'll share more next week. ✔︎ This project turned out to be an Amish Diamond in a Square out of prints that I am guessing are from the 70′s. I didn't take pictures, but the top is complete and returned for quilting.
I'm linking to To-Do Tuesday and Connie's Linky Tuesday.
Tags: Linky Tuesday, Machine Quilting Block Party, One Block Wonders BOM, To-Do Tuesday