Last Summer, I was asked by a client if I could make a hobo bag/cross-body bag out of t-shirts. I thought that would be doable, so playing around with a t-shirt I no longer used, I came up with a design. Life happened, and even though we chatted on the phone several times, we did not meet up again until this Spring. She liked my design, gave me two t-shirts, we picked out fabrics, and TaDa! Here is what I created for her.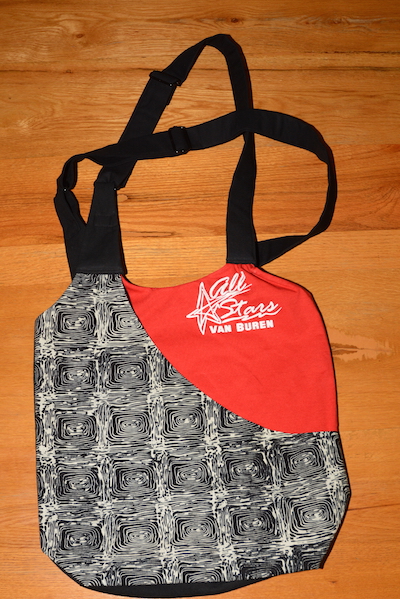 Batik fabric creating a large outer pocket.
She wanted her bag to be larger/deeper/wider.  I added a squared bottom to get the wider. I cut the t-shirts as large as possible to increase the size. I used one shirt for the side of the bag with a large outer pocket created with Batik fabric.
Another t-shirt was used for the other side of the bag.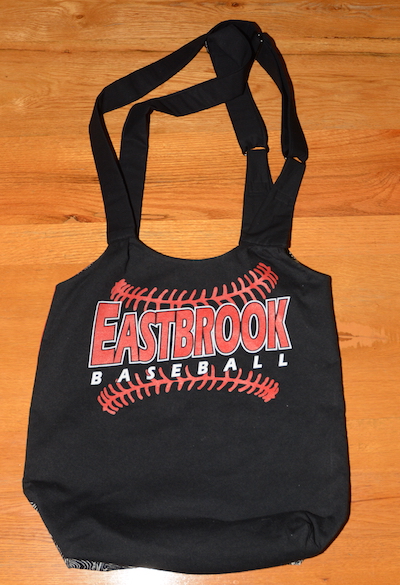 For the shoulder straps, I used a solid black fabric and fusible interfacing to add durability. Then I decided to get all fancy-shamancy and add hardware making the straps adjustable. This was my first time to make adjustable straps, which I found out are really very easy to make and attach to the bag.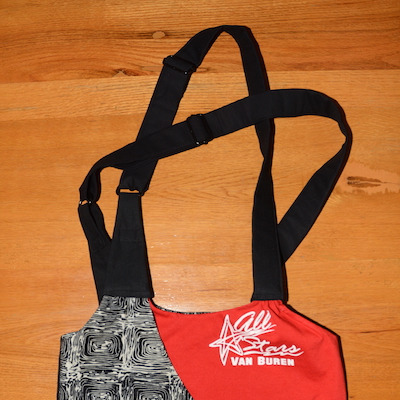 Can you see the black hardware rings and sliders in the above photo?
I used one of the black t-shirt sleeves as an inner pocket.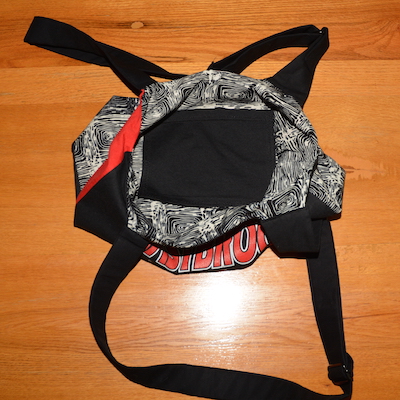 The lining is the same fabric as the outer pocket.
I'm happy to report that my client was very pleased with her Hobo Bag!
So far I'm keeping up with Leah Day's Machine Quilting Block Party.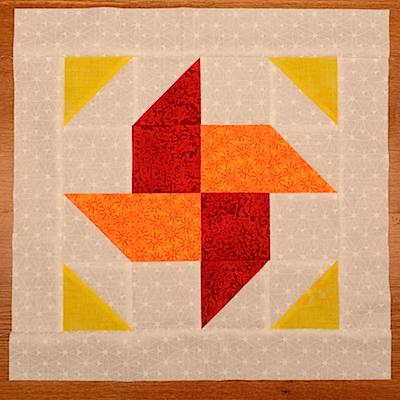 Block #6 Solar Flares
Family news! Son #2 has accepted a job 2 hours south of us. I'm happy for him, since this is a step up for him in his chosen career, but that means less time with him and his family. Life will be changing for all of us. Less grand baby time, less time helping DIL who comes over weekly for sewing lessons – she's making a quilt! Less shared meals. I'm sure we will all adjust to 'less' but hopefully more quality visits. After all, my hubs and I are the ones who moved away from our families. 10 hours, not 2!  That all said, I think this month will be filled up with helping them. They are on their 3rd round of house hunting. And grand baby is spending the day with me!
What about you? Are you keeping to your regular sewing schedule this Summer?
How did I do on last's week To-Do List?
Start June's Machine Quilting Block Party BOM ✔︎ Block cut and sewn together!
June's One Block Wonders pattern should be available Friday! ✔︎ Printed off pattern. I'll have to ponder what fabric to use this month.
Helping son pack and move. ✔︎ This is going to be on-going for a while. I've mostly been doing childcare, with several trips with them to house hunt.
To-Do List for this week.
Continue childcare for son and DIL as they prepare to move, they hope later this month or early July.
Prep for out of town wedding this weekend. (laundry, pack, gift shop, etc)
Maybe Monday mark and quilt block 6
Tags: T-shirt Hobo Bag