Greetings! Are we really half way through the first month of 2023!?
Tomorrow marks the day one year ago that I started the Homage to Grandmother's Flower Garden Quilt Along.  I've not completed the quilt top in that one year as I'm on week 43. It's all about enjoying the process, and that I am still doing!
Here's how my To-Do list went this past week -
To-Do Tuesday, January 10, 2023
Homage to Grandmother's Flower Garden! This was last year's quilt-a-long and I have 10 more weeks to finish. ✔️ I'm still stitching.
Three clothing quilts. Part of the clothing came already fused with a stabilizer. I've cut all those pieces into squares. Time to fuse the rest and continue cutting. Possibly construct some basket blocks. ✔️ One top made.
Friday quilt group – I'm taking along the hexies for Homage to Grandmother's Flower Garden as my handwork for the day. ✗  Plans change.
1. Homage to Grandmother's Flower Garden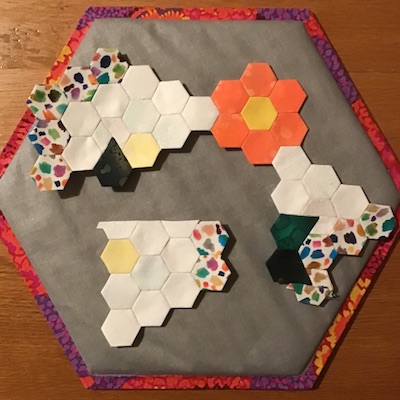 Week 42 stitched together in two sections. Isn't that top one very odd shaped?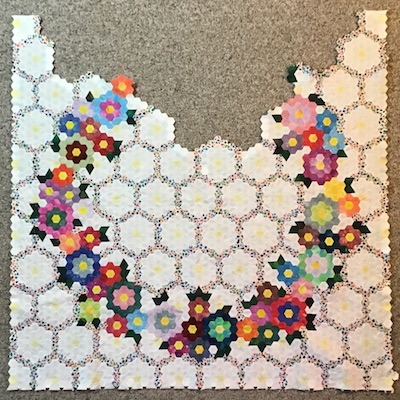 Weeks 1 – 42.  Note the four corners are all now pieced and attached!
Week 43 is basted and some stitching underway. I did not photo the progress.
2. Clothing Quilts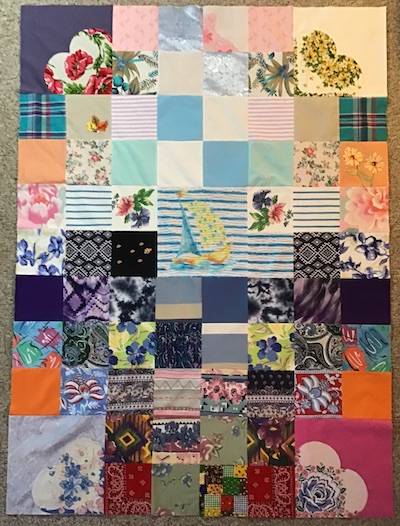 41 different garments were used in this top along with four handkerchiefs. Instead of baskets made from the hankies, I went with hearts in the four corners. The next two tops will be very similar other than the "center" shown here as the sailboat. Each quilt top will have a different t-shirt motif in the center.
3. I didn't attend Friday's quilt group. Two gals I give a ride to could not make it, so I decided to stay home and make headway on the clothing quilts. I'm working towards getting the clothing quilts done so I can get back to my own to-do list!
Looking at this week's plans -
To-Do Tuesday, January 17, 2023
Keep moving forward on Homage to Grandmother's Flower Garden!
Finish the clothing quilt tops. One done, two to go.
Maybe pull out something old or new to work on. ie. There are too many 2023 Squirrels showing up in my feed to tempt me into new projects! But really I should just focus on the Flower Garden and get is completed!
Linking to To-Do Tuesday hosted by Carol of Quilt Schmilt.