Snow is coming! Since I live in NE Indiana, what is winter without snow!?  Maybe up to 8 inches falling on us tomorrow. Pictures next week!
On to quilting -
To-Do Tuesday, January 17, 2023
Keep moving forward on Homage to Grandmother's Flower Garden! ✔️
Finish the clothing quilt tops. One done, two to go. ✔️
Maybe pull out something old or new to work on. ie. There are too many 2023 Squirrels showing up in my feed to tempt me into new projects! But really I should just focus on the Flower Garden and get is completed! ✔️ No sewing but collecting patterns.
Here's what I did this week -
1. Homage to Grandmother's Flower Garden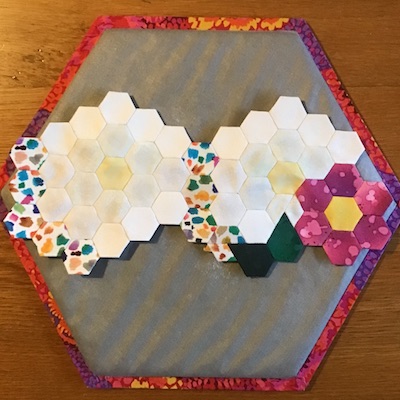 Week 43 stitched together.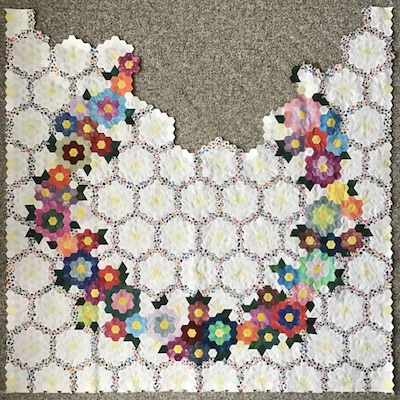 And attached to the quilt!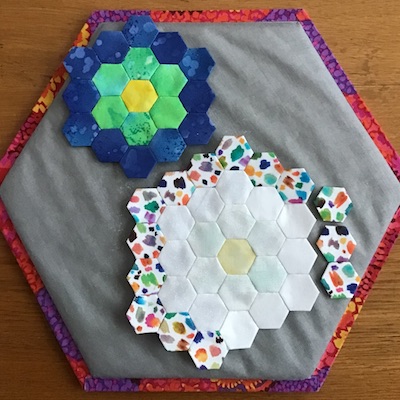 Week 44 underway.
Plus I counted out the 1/2″ paper hexagons for the remaining eight weeks of the quilt-along putting them in sleeve protectors with the instructions for each week.
2.  Clothing quilt tops are completed and sent to the longarm quilter.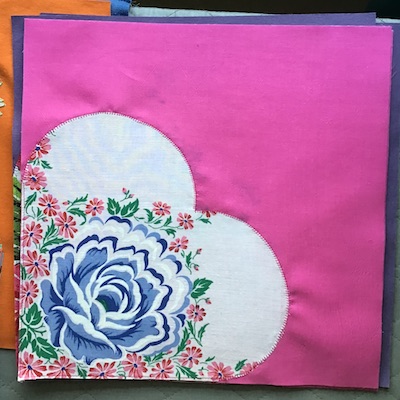 I cut hearts out of 12 hankies and appliquéd them on to solid t-shirts or as in this photo a scarf. There are hearts in all four corners of the quilt tops. I didn't take any more photos. I think I was just so happy to complete the three tops and move them to the longarm quilter! Here is the one I did photo last week.
3. I've been printing off free patterns that look tempting as they show up in email or on Facebook. Have you heard of the 365 Challenge quilt? Created by Kathryn Kerr? She designed a quilt several years ago making one block a day with 3 inch, 6 inch, and 12 inch designs. It's free and can be found on Facebook as Friends Who Like 365 Challenge Quilt Blocks.
This week I just want to focus on the EPP  -
To-Do Tuesday, January 24, 2023
Homage to Grandmother's Flower Garden!
Pick a machine sewing project.
Linking to To-Do Tuesday hosted by Carol of Quilt Schmidt.