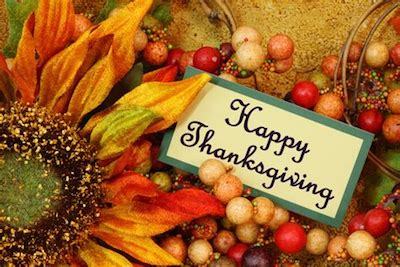 As we celebrate Thanksgiving here in the USA this Thursday, I hope we each remember to whom we are giving thanks. May God Bless you all!
To-Do Tuesday, November 15, 2022
Homage to Grandmother's Flower Garden, week 33. ✔️
Enjoy visit with sister & BIL. ✔️
Friday is sewing day with quilt group. Hmmm. What to take along? ✗
Here's what happened with that list -
1. Homage to Grandmother's Flower Garden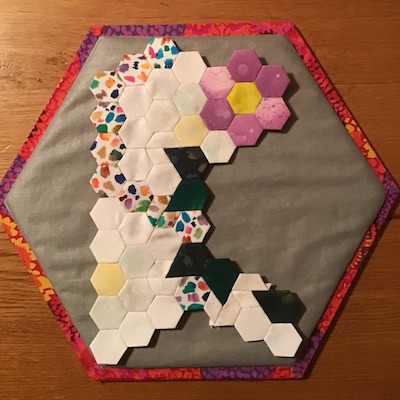 Week 33 completed. Those leaves slow me down with the tiny background pieces. I started attaching it to the quilt last night, no photo.
2. Visit with my sister and BIL went well! I invited my kids and their families over and all but one joined us for an enchilada dinner. Good time, good conversations.
3. I didn't make it to my friend's home for our sewing day. Just as I was reading a text from her that her drive was very icy, my husband came into the room and said he just heard of three car accidents in the direction I was to head. Icy roads. He didn't want me driving. I thought plan B would be staying home and sewing on the project I planned for the day away, but since I was home other household projects kept popping up. You know how that goes, right?! Then once roads cleared, I ended up heading out to get the Covid Booster & the first Shingles vaccination.
Shingles is nasty folks. Have you gotten the two part vaccination? I know too many people who have suffered from Shingles, and one even lost their sight in one eye. That has prompted me to get the vaccine.
I did do just a bit of other sewing, again with my granddaughter.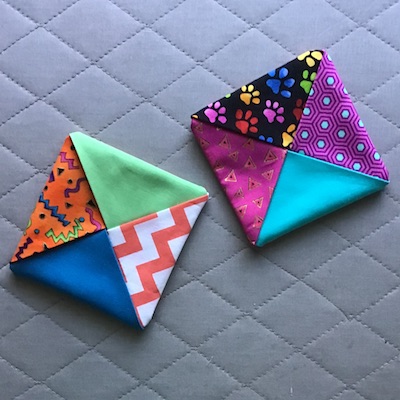 Two 4 1/2″ square coasters for the grands to use Thanksgiving Day. Granddaughter selected the cat paw print and built from that for her coaster. And her brother loves orange, so we went with those two fun prints and pulled out the green and blue to coordinate.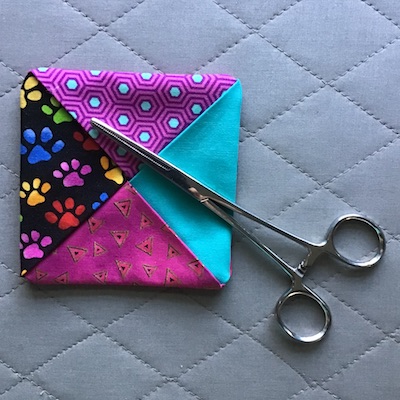 Granddaughter likes smoothing out the corners with this hemostat.
A friend dropped by with a fabric donation for charity sewing. She was cleaning out her sewing room and part of what she gave me was a bag full of cat and dog prints. My grands enjoyed digging through those fabrics with me! The cat paw print in the coaster came from that bag of fabric.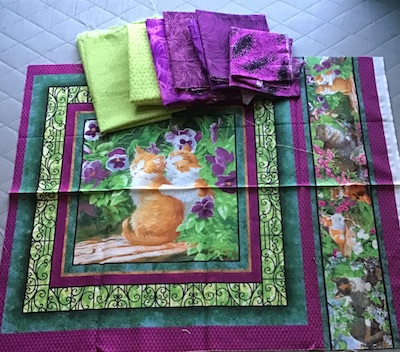 My DIL got in on the fun and pulled out this cute cat panel. The green and purples were pulled from my stash. The beginnings of another charity quilt! Maybe a white should be added to make HSTs to border the panel. Unless my DIL takes up this project, it will sit for a while as I am still working through my own pile of  To-Be-Charity quilts!
To-Do Tuesday, November 22, 2022
Today I start cooking for Thanksgiving!
Keep moving ahead on Homage to Grandmother's Flower Garden.
Will I sew on anything else this week? Time will tell.
Linking to To-Do Tuesday with Linda of Texas Quilt Gal.