This past Thursday was my Curvy Quilters sewing day. Our little group meets in our members homes. We gathered and sewed at Pat's house. Pat has a lovely large design wall in her studio. I got to play with my hexies and panel quilt laying it out on her design wall.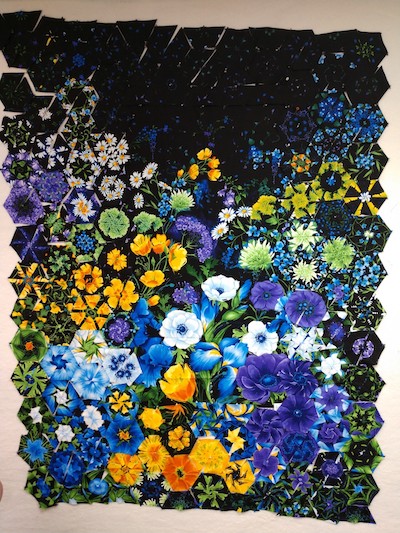 After fiddling with placement of the hexies, I sewed together 7 diagonal rows starting at the bottom right corner. The picture was taken before any rows were sewn together. I'm liking how this is looking!
Pat suggested I leave the quilt on her design wall and return soon to continue sewing the rows together. I took her up on the offer as picking up and labeling the rows would have been overwhelming at this point.
My goal for September will be to complete this quilt top.
I plan to get to Pat's this week and get more sewing in, and hopefully to a point where it will be easier to label and transport it home.
Linking to One Monthly Goal sponsored by Patty at Elm Street Quilts.
Tags: One Monthly Goal