The block I'm currently working on from the Bird Song Sing-A-Long pattern is called Rock'n Robin.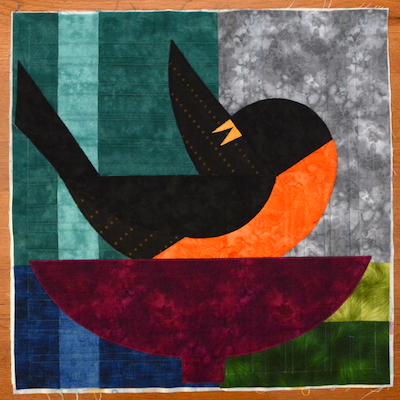 Mr. Robin needs an eye, and some dimension added to his wings and tail feathers. Plus some water droplets splashing out of the birdbath.
The second pattern for the Happy Little Things BOM was released, and I got it started.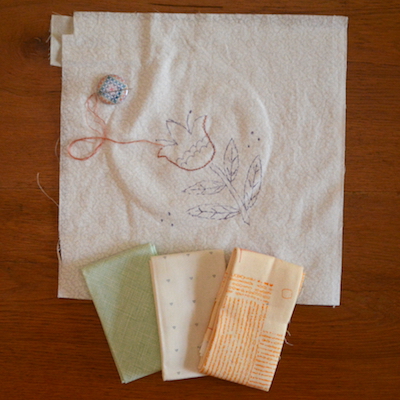 Traced, fabrics selected, and embroidery underway.
Also this week, I made headway on my One Block Wonder hexie panel quilt. Read about it here. If you have not seen OBW panel quilts, go to Pinterest and search for One Block Wonder with Panels to see some amazing quilts!
Baby time!
I got to play with this cutie this week.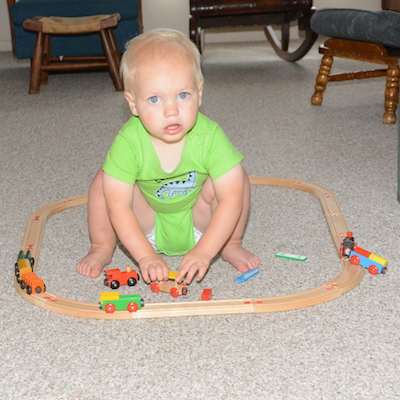 He loves anything with wheels! I pulled out his dad's old wooden train set and he played happily for over an hour with it! Who says toddlers have short attention spans!?
I have a few toys here from our children's childhoods. Our adult children mostly took what they wanted with them, got rid of a few things, and I kept a few. It amazes me how this train kept his interest for so long! I pulled it out once for his older sibling, and she had no interest in it at all.
Do you have a favorite childhood toy or memory? I still have a very warn & loved stuffed kitty-cat.
Last To-Do List:
Finish Rockin' Robin Block,  ➤  worked on but not finished
Work on Hexie Panel quilt ✔️
To-Do List:
Same as last week, finish Rockin' Robin Block
Work on Hexie Panel quilt
Linking to To-Do Tuesday hosted by Home Sew by Us.