Last week's goals, I finished the Fence Rail Star quilt, which was also my August One Monthly Goal.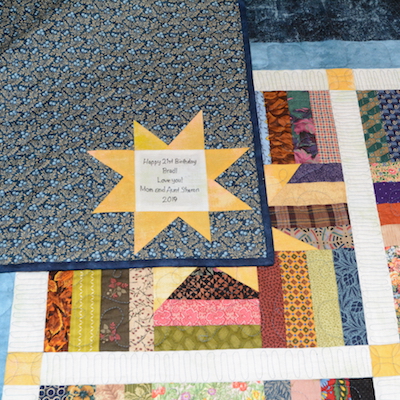 Wonky Star label.
And I finished this little cutie embroidery quilt block design by Jacquelynne Steven called Happy Little Things.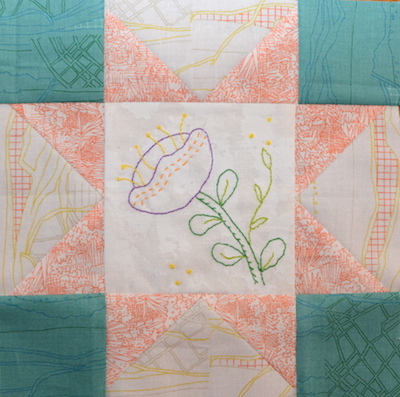 I'm using Friedlander fabric by Carolyn Friedlander for the pieced blocks. I used scraps of floss, various brands, for the embroidery.
I started working on a 2018 Row by Row quilt. Have you heard of the Row by Row Experience? Have you collected any of the free patterns? You have to visit participating quilt shops between June 21st and September 3rd to pick up a copy of their free Row by Row pattern. This year's theme is Taste the Experience.
Back to what I'm doing. I hopped around on the web to see what shops are doing out of my area. I found that back in 2018 Susan Rooney designed 8 individual patterns for 8 New York quilt shops for the Sew Musical theme. The finished quilt is Birdsong Sing-A-Long. I bought the pattern and 2 kits.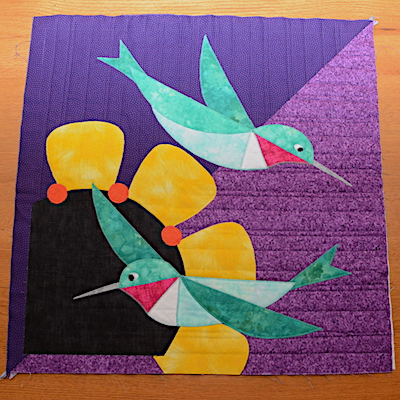 I finished "Hummin' a Tune or Two" Quilt-As-You-Go method, and machine appliquéd the Hummers and flower.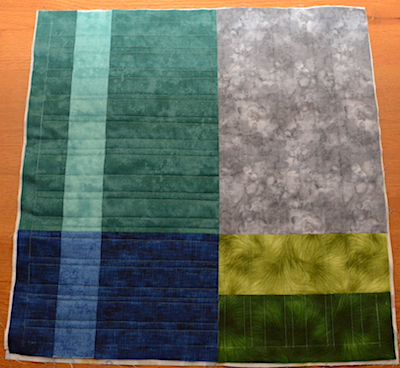 I also have the background ready for "Rockin' Robin" and I'm working on tracing and cutting out Mr. Robin and his birdbath. The 2 blocks will be finished at 18″ square. 4 more blocks will also be 18″ square and 2 will be 12″ x 27″ to make a 48″ x 54″ quilt.
That's it for this week. How did your week go?
Last To-Do List:
Quilt borders of Fence Rail Star quilt & bind!  ✔️ Finished! Take a look here.
Finish embroidery block  ✔️It so cute! I'm looking forward to the next block release.
To-Do List:
Finish Rockin' Robin Block
Work on Hexie Panel quilt
Linking to To-Do Tuesday hosted by Home Sewn By Us.