My quick trip east with family over the weekend went well. I arrived home late last night.
My Mother passed away Sunday, February 4th at the age of 89. She will be missed, but we enjoyed our time with family and friends celebrating her life. Oh the stories that were shared! I'll spare you, but we had our laughs and tears. She was quite a lively and godly lady!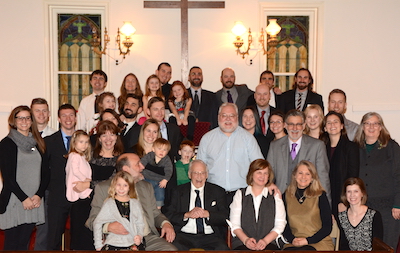 The Loper Clan, my father in the suit sitting in bottom row, my brother on his right, me and then my sister on his left. We are surrounded by our kids and grand kids, spouse standing behind each of us. (hope that makes sense)
Years ago, my mother gave me a hand embroidered 'blanket' that was made long before my time by the ladies of the church I attended as a child. I believe it was a fundraiser where families purchased a square for their name to be embroidered in to the blanket. Kind of a memorial of members and friends at the time. I don't know if it was auctioned off at some point, but it was in my grandmother's possession when she passed away in 1994. My mother gave it to me. I'm not sure why, maybe she thought I'd appreciate it as a quilter. But, I always thought I should not be its "keeper" as it belonged with Mt. Paran Church in Maryland, not with me in the Midwest.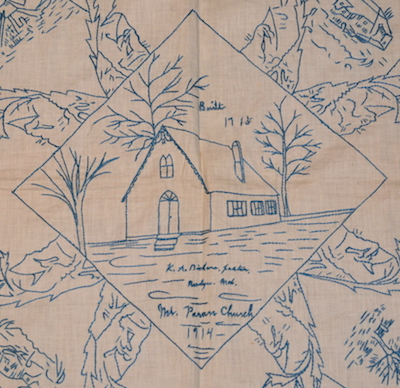 The church kindly provided refreshments for our family and guests after the burial in what they now call the Historic Chapel as this structure is believed to be one of the oldest in the area established in 1718, 300 years ago! I spoke with the Session Clerk and Associate Pastors telling them the story of the  embroidered blanket. They were delighted to learn about the blanket and will be happy to once again have it in the church's possession, as I promised to return it to its rightful owners.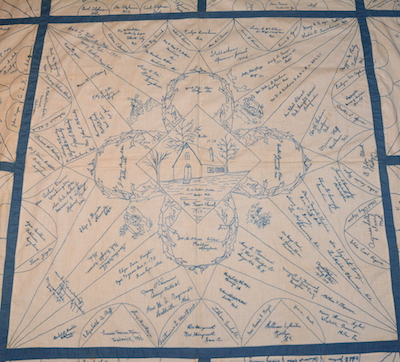 My son wants to take proper photos of all the embroidered squares before I ship it off. As I took a closer look at the squares today, I found one was completed by my grandmother, and another by her younger sister. Dated 1914. My grandmother would have been 21 years old when she did this hand work!
This piece of embroidery is an amazing piece of history! Beautifully handcrafted! If any of you know the proper name for the embroidery piece, please let me know!
As for my to-do list for this week, I decided on prepping Chopsticks, pattern by Jaybird Quilts. I'm using fabrics I purchased from Craftsy in one of their mystery boxes and also fabric from a LQS, all purchased about 3 years ago.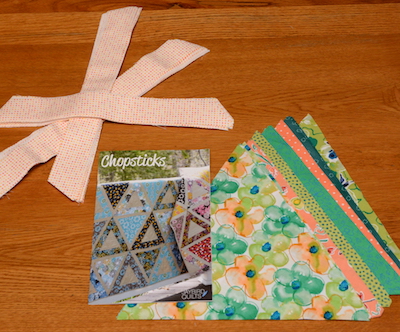 I got all the fabrics cut and even some of the triangles block piecing started.
How did I do on last week's To-Do List:
Pet fabric and figure out what project to prep for sewing club days. ✔️
Quick trip East, so not much else will be accomplished. ✔️
To-Do List for this week:
Pack and ship the Mt. Paran embroidered blanket.
Finish shopping for fabric for the Temperature quilt and attack the Hexies!
Linking to To-do Tuesday and Linky Tuesday.