This week I completed two each of two block designs from the Letters to a Soldier Book by Jodi Barrows.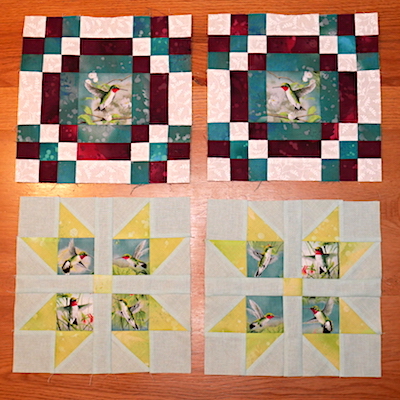 I'm calling this my Hummingbird quilt because I fussy-cut hummingbirds to piece into as many blocks as possible.
Since I'm using Jodi Barrows' Square-in-a Square method and rulers, I'm going just a bit slow as I read and learn her method. One thing has become apparent. I will not be able to quickly chain piece certain sections, as I must be aware of placement and orientation of the hummingbirds. Also, my points are not yet perfect, so I need to take note of proper cutting.
My quilting day with friends was canceled today due to snow. I decided to use today to finish several quilt backs for quilt tops I completed last year.  I'm folding the top & back and placing them on hangers. Attached in a plastic bag, are binding, thread for quilting, and any ideas I have for the quilting. I'm smiling at the new organization, but it doesn't mean finished! At least it is a step in the direction towards finished! In the mean time, my sewing room is looking less like a crazy pile of abandoned projects!
I need to figure out the next project for the monthly quilting day with friends. The Hummingbird quilt takes too much concentration to work on while chatting with friends. I've already started 2 new projects this year, the Hummingbird quilt, and the Temperature quilt, but I'd like something brainless to work on while gathering with friends. I have at least three quilt projects pulled together with fabrics and patterns.  I suppose I just need to figure out which one I love most and start prepping it.
How did I do on last week's To-Do List:
Work on Hummingbird quilt. ✔️ 4 blocks completed!
Work on back for Chic Country quilt.  ✔️ Plus organizing several other backs.
To-Do List for this week:
Pet fabric and figure out what project to prep for sewing club days.
Quick trip East, so not much else will be accomplished.
Linking to To-Do Tuesday and Linky Tuesday.