That UFO. I've finished the straight line quilting in the pieced blocks, and have moved on to the curved quilting.
This is a quilt for my son and his lovely wife, I shared about here. It's all marked for the curved quilting.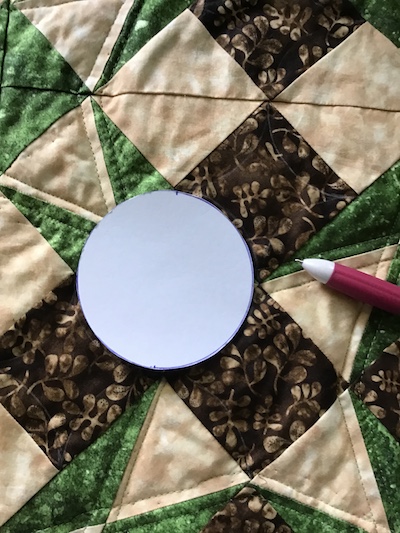 I cut a three inch circle from card stock  and grabbed a Sewline white ceramic lead marking pencil. Then traced around the circle to mark the curves within the brown squares.  I can continuous line quilt through the brown squares from one side of the quilt to the other. After the quilting is completed in the brown squares, there are just 2 borders to quilt. Phew! The end is in sight!
Another project all marked and ready to go is October's block 3 of Happy Little Things BOM. I'm embroidering the center of each block.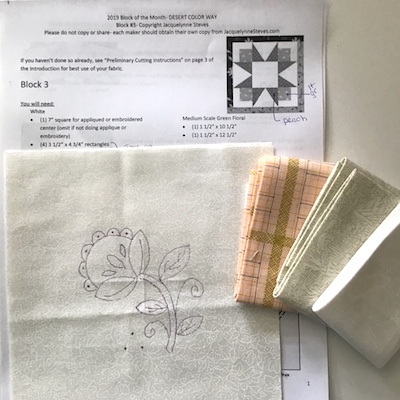 Next step, select the embroidery floss for this month.
Here's September's block 2 all completed.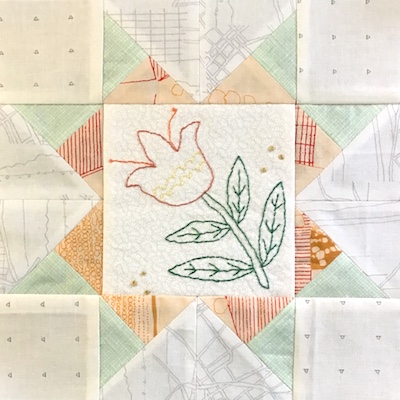 Happy Little Things do make me happy!
Last To-Do List:
Finish September's Happy Little Things block ✔️
progress on son's wedding quilt ✔️
To-Do List:
Stay focused on son's quilt!
Lego building with son and DIL – I'll share about that next week.
Linking to To-Do Tuesday