Last week I quilted my friend's Crazy 9-Patch quilt. Here is a close up of some of the quilting.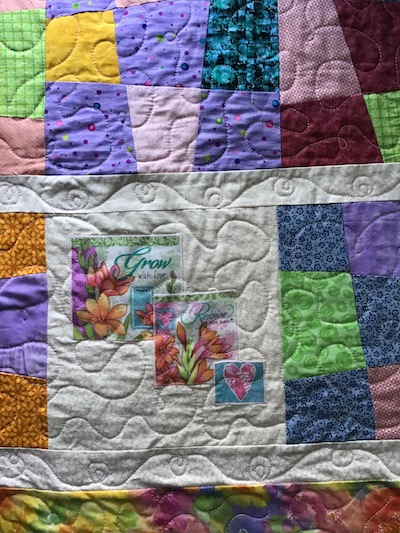 I met up with her Friday, and she liked the quilting on the 9-Patch and the Cherry quilt which I worked on the previous week.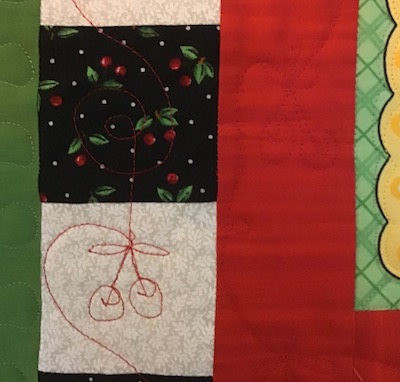 I got the idea for the cherries from Lori Kennedy. Lori has a lovely blog where she demonstrates her many FMQ motifs.
I had a big "Oops!" while quilting on the cherry quilt! I thought the stitching took on a different feel. So I stopped and took a look at the back.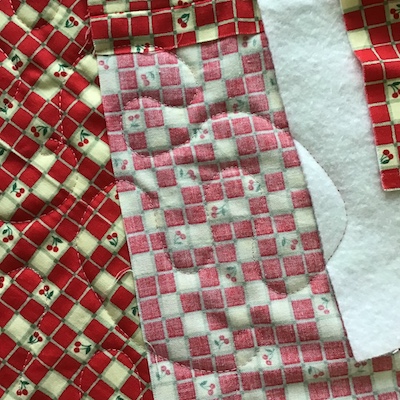 Yep. The back and batting got turned under and caught in the stitching. At least it was not too many stitches to rip out and fix! Has this ever happened to you?
Hand embroidery: Evenings after supper is when I try to fit in some hand stitching. But not so much this past week. With the weather turning cooler and evenings growing longer, I should be finding more stitching time this Fall & Winter.
The little I did do this week was on an old sampler.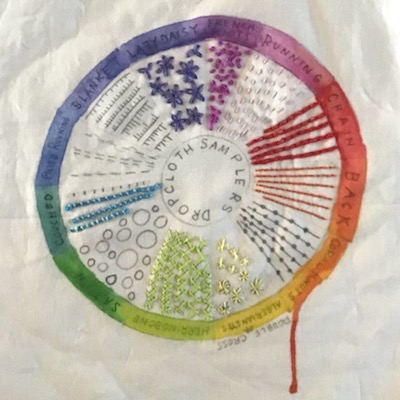 This is a Dropcloth sampler I bought through Etsy a few years back.
Since I'm still so new to hand embroidery and don't know many of these stitches, I've been watching youtube to learn them. I think I'm coming along ok with this new skill.
New quilt: This is a photo from Sew Kind of Wonderful's book Mini Wonderful Curves.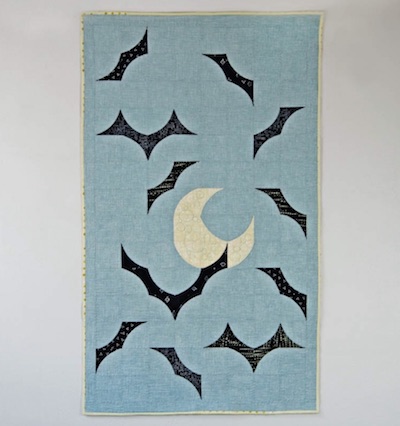 The quilt is titled Bat Moon Rising, and I think it will be perfect for a friend expecting her first baby.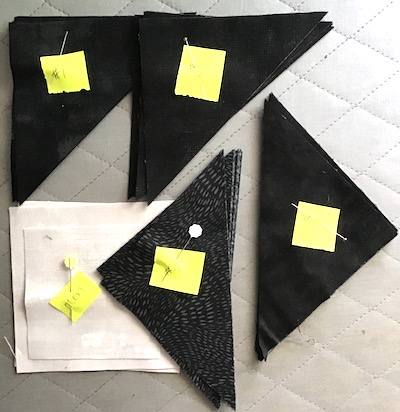 Bat and moon pieces are all cut. I'm using an ombre (not shown) for the background, so that might require some thoughtful cutting.
How was your week? What do you have planned for this coming week?
Last To-Do List:
Quilting friend's quilt.  ✔️ Basted, quilted, delivered!
Evening hand embroidery.  ✔️Just some stitches completed on an older sampler.
To-Do List:
Quilting Curve it Up, my One Monthly Goal for November. I spray basted it yesterday. Get to the quilting.
We have guests coming this weekend. I've got to do some house cleaning and meal prep.
Work on piecing Bat Moon Rising if time allows.
Linking to To-Do Tuesday hosted by Home Sewn by Us.