Tomorrow I meet up with one of my quilting groups. I'm behind on the Happy Little Things BOM, so today decided to prep the 4th block, November's block. It's ready to take along for some hand stitching time.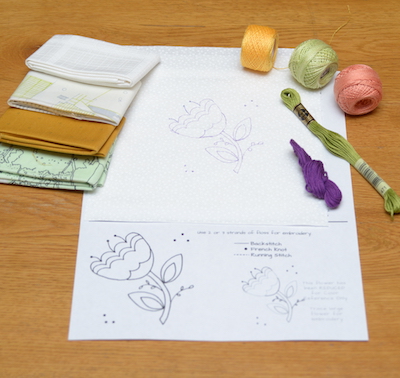 Center floral traced, embroidery floss and fabrics selected.
Dropcloth Sampler progress: I've learned Coral Knots stitched in yellow, Algerian Eyes in pale yellow, Herringbone in light green,  Couching in aqua, Filled Running in blues.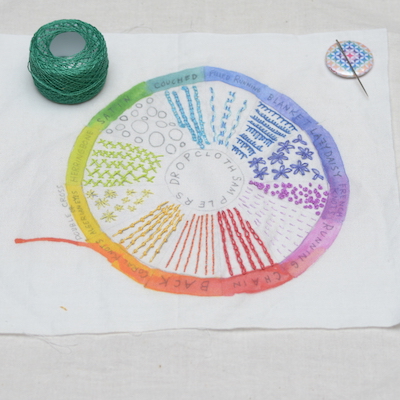 Next up will be Satin stitch in green. I already knew Blanket, Lazy Daisy, French Knots, Running, Chain, and Backstitch. I've been watching Youtube videos to learn the stitches.
My main goal for this week was machine quilting Curve it Up. With my prep for company and then our actual visit time, I didn't get much quilting accomplished. Here are the few blocks I did quilt -
4-Patch, just the 2 right side 4-Patches are quilted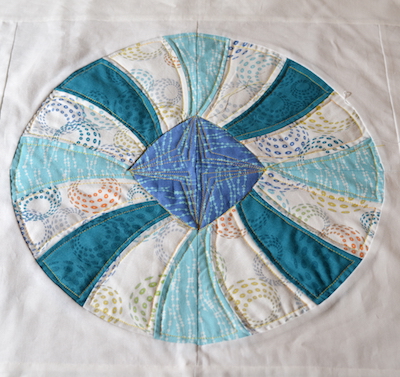 Dresden Plate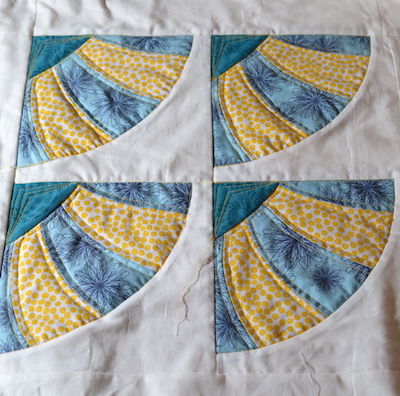 Fancy Fans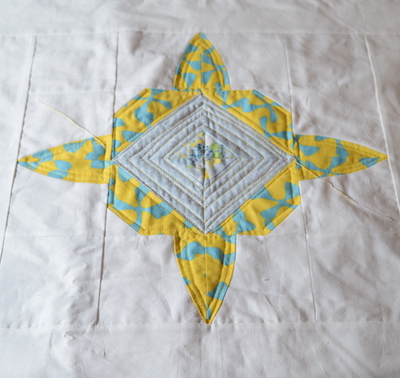 Star Block. There is a lot of white background fabric in this quilt. My plan is to quilt the blocks in Superior Threads King Tut 40 weight variegated yellow #985 and then go back to quilt the background in white #971.
Thursday I'm hosting my other quilting group, and plan on working on Bat Moon Rising.
What are your current quilting plans?
Last To-Do List:
Quilting Curve it Up, my One Monthly Goal for November. I spray basted it yesterday. Get to the quilting. ✔️ Got a few blocks quilted.
We have guests coming this weekend. I've got to do some house cleaning and meal prep. ✔️ We had a wonderful visit!
Work on piecing Bat Moon Rising if time allows. ✗ Nope, didn't happen.
To Do List:
Continue quilting Curve it Up
More fabric cutting, then start piecing Bat Moon Rising
Hand embroidery in the evenings
Linking to To-Do-Tuesday, hosted by Roseanne of Home Sewn by Us.