I've signed up for a hand embroidery class! It doesn't start until October 30th, but it has already filled up! There will be a kit to purchase at the first class.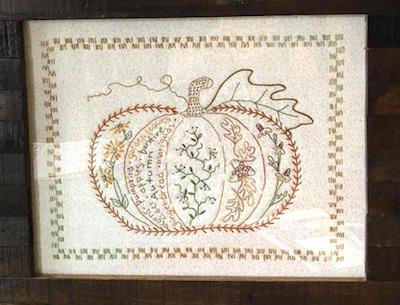 Since I'm a beginner, I asked if this class would be appropriate for me, a newbie. And I was assured it would be a good class for learning, I think she said 14 different stitches. I'm hoping I can handle it!
This week's progress: I got a few more Dancing Star blocks underway. And the FMQ squiggles are all completed on Chic Country. On to the next section! I have 2 more designs to quilt on Chic Country. I hope to finish it this month.
Road trip! I had a blast with my friends. We visited Caroline's Cottage Cottons in Rome City, IN. Caroline is a delightful person. Her shop is adorable. And her shop was  one of the 10 top shops featured in the Fall 2018 Better Home & Gardens Quit Sampler Magazine. !!!!   Yes, I bought a copy of the magazine and asked Caroline to autograph it! Check her out on Facebook.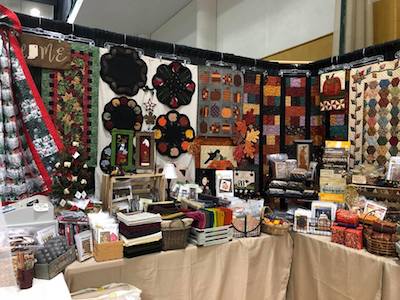 Photo from her recent vending at the Ohio One Stop Shop Hop.
From the quilt shop we went to Turkey Lake Tavern in Elmira for lunch. I recommend their fish special. Yum!
How did I do on last week's To-Do List:
Continue paper piecing Dancing Stars ✔️
Continue FMQ Chic Country ✔️
Road trip with friends to a quilt shop north of us. ✔️
This week's To-Do List:
Continue paper piecing Dancing Stars
FMQ Chic Country
That should be it for this coming week. How was your week? Starting anything new?
Linking to To-Do Tuesday and Linky Tuesday.