Aren't these pretty 6″ stars?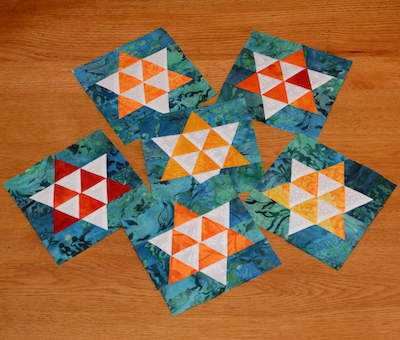 I'm loving the bright colors and the batik background.
I only spent one afternoon working on these paper pieced blocks, so I'm happy with getting 4 more completed.
Hemming dresses? Whose idea was that!? I pulled them out of the bag to discover they are all knits. And not just t-shirt type knits, but those silky flimsy types. I really don't feel like I have enough experience with these types of fabrics to do a decent hem. I talked to my friend, and she said they are just sun dresses she wears around the house, so she is not too concerned about how the hems look. I told her I'll take a second look at them and decided if I'm brave enough to attempt them.
After looking at them, and searching instructions for hemming on my Janome, I decided to give a hem a go. I trimmed off some of the bottom of one dress so I'd have fabric to play with. I even called my local Janome dealer to get advice. I set up the machine with proper foot and needle, and gave hemming a go. It looked ok. I hemmed 2 of the dresses, but  passed on the slippery poly/spandex one.
How did I do on last week's To-Do List:
Paper piecing Dancing Stars. ✔️ 6 completed
Continue FMQ Chic Country.  ✔️ progress was made, lots more to go
GOT to hem those dresses!  ✗ & ✔️ did 2 of 3, and passing on the third.
This week's To-Do List:
Continue paper piecing Dancing Stars
Continue FMQ Chic Country
Road trip with friends to a quilt shop north of us.
Linking to To-Do Tuesday and Linky Tuesday.