Tuesday, August 22nd, 2017
Hubs and I took a trip back east, visiting family in PA and MD. While visiting my folks in PA, I stopped at Simply Stashing in Littlestown. Every time we drive to Hanover, PA I do declare that shop is closed when we pass it in the evening, and it has not yet opened when we head back home in the morning hours. Usually I don't fit in a stop at the quilt shop, but managed to this time. I told my husband I was popping in to ask for their Row by Row pattern, a cute Flying Geese pattern. Of course I had to look around while there.
I found the bicycle fabric which I could not pass up. And those two fun prints were on their discount wall.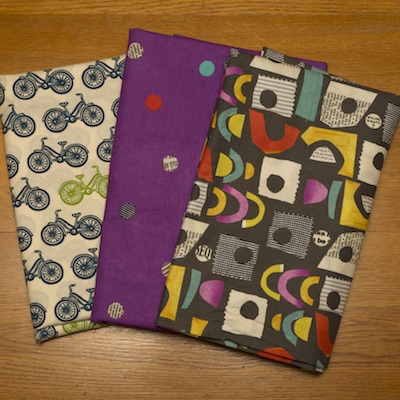 While checking out, the gal asked if I would be visiting other quilt shops in the area. I asked where they are located and one she mentioned is in Hanover. It ends up that it is just around the corner from the retirement community where my parents live! (Ok, around the corner in a country mile.) My folks have lived there for 11 years! And I never known about this shop! I do recall passing a shop last year with a Bernina sign, and wrongly assumed it was just machines. Nope, it is a nice quilt shop too! Danners Bernina Shoppe. I bought a book that goes along with the Westalee quilting rulers I own, and another ruler. With practice, I hope to up my ruler work using my Baby Lock Tiara III sit down quilting machine.

Sneak peak of the Facets quilt. Design by Christa Watson.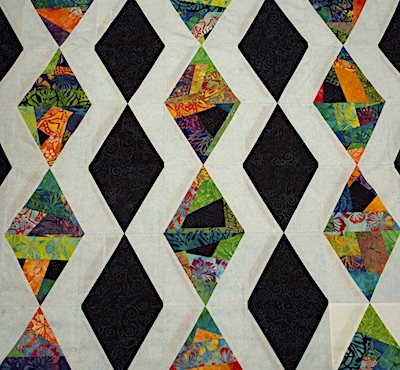 The top is completed and measures 88″ x 84″ enlarged from the original pattern to fit my son's bed. I don't have the back or binding prepared yet, but the top now goes into my 'to be quilted' pile. I'm so happy to check the making of this quilt top off my 'to-do' list!
While cruising some quilting websites back in July, I came across a Christmas block Quilt Along.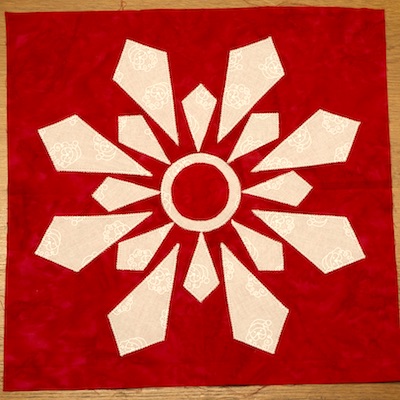 This snow flake was the first block presented August 1st. The quilt along is called I Wish You a Merry Quilt-Along. I'll be keeping an eye out for the upcoming designs presented, but with a personal reality check, I'm realizing I should just not join another quilt along right now! …  she said backing away from the internet!
I finished a quilt today! Yesterday I completed the straight stitch quilting, and today I attached the binding.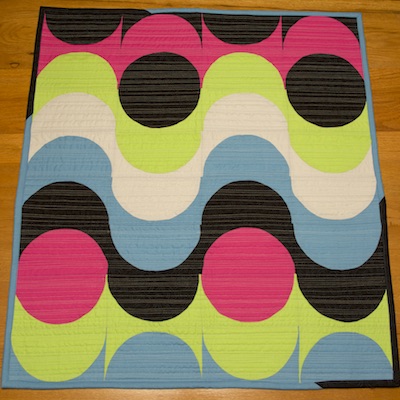 This quilt design is On The Wave from Sew All Around Quilt Along.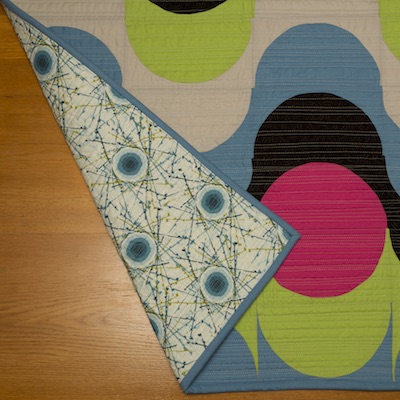 I love this fun back used on my little wall hanging. It measures 30″ x 34″.
How did I do on last week's To-Do List?
Safely travel to PA to visit my folks. ✔️ We also visited relatives in MD and IN.
Gift Monkey quilt to young nephew.  ✔️ Happily gifted!
To-Do Tuesday List for this week:
Start cutting pieces for next quilt top on my list- Tropical Snowball.
Sandwich baby quilt and begin quilting – a friend's quilt.
Catch up on Sit Down Free Motion Quilting BOM