I finally got myself going on the t-shirt quilt. The shirts are fused with interfacing, and cut to size. The 20 in the photoed pile below are 14 1/2″ square.
Sashing is 2 1/2″ wide. There are also 3 shirts prepped at 16 1/2″ x 20″ not photoed.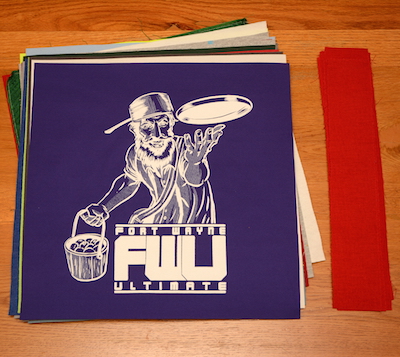 Do you recognize the figure in the top t-shirt? That is John Chapman, aka Johnny Appleseed. A legend here in NE Indiana. Fort Wayne has a park dedicated to him where the Johnny Appleseed Festival is held in September. The story goes that he provided apple seeds or saplings to pioneers moving west so they could have apple trees to grow where they settled. It is said he wore a tin pot as a hat, thus the pot on his head in the graphic design.
Next is the Sew All Around BOM with the blocks are sewn together. This week is sandwiching and machine quilting.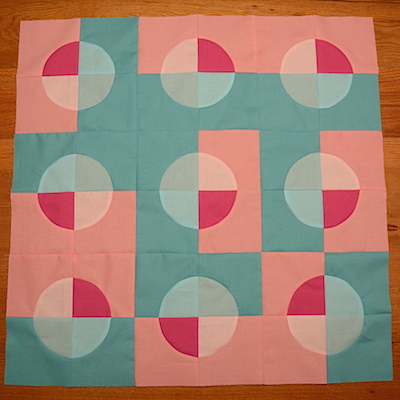 I'm calling this little quilt Mixed Berry Smoothie. The designer of the quilt made it up in yellows, gray and black and called it Lemon Juice.
My Fusion Blanket is coming along slowly.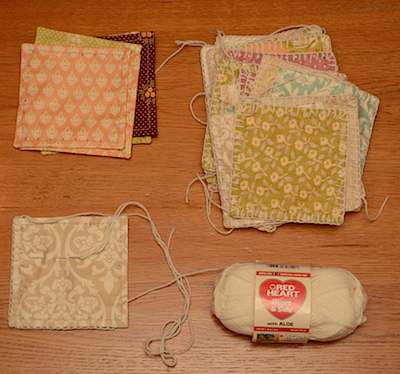 I have 28 squares blanket stitched with 8 more to go. Then I need to sew a few more squares to get the blanket to the size I want. Then, on to crocheting. The crocheting is going to take lots of practice on my part, as I attempt to learn the stitches needed for this blanket.
I watched the 2012 version of Wuthering Heights last night, but just could not make myself pick up a needle to blanket stitch the 8 remaining Fusion Blocks above. I didn't make any progress on the Dropcloth Embroidery Sample either. Usually, I like stitching while watching movies.
How is your week going? Learning anything new?
Last week's To-Do Tuesday List, how did I do?
Concentrate on t-shirt quilt. ✔️ T-shirts fused and cut to size, sashing cut.
Next step of Sew All Around BOM. ✔️ Top pieced.
Continue Fusion Blanket. ✔️28 squares blanket stitched, 8 more to go, and a few more to sew.
This week's To-Do Tuesday List
Sew t-shirts together with sashing and border.
Sandwich and quilt Sew All Around BOM quilt top.
Continue Fusion Blanket.
I'm linking to To-Do Tuesday and Linky Tuesday.
Tags: Fusion Blanket, Sew All Around BOM, T-Shirt