This month I'm participating in Gosia Pawlowska's Sew All Around BOM. You can find it on her blog Quilts My Way or Facebook.
I'm behind. This week's lesson is on attaching a sleeve on the back for hanging. But I just finished the simple grid quilting.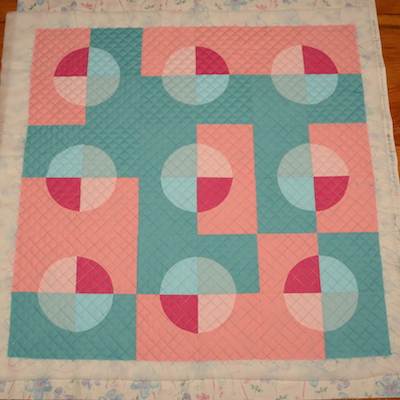 The quilting was done with a walking foot on my Janome. I used a variegated blue trilobal polyseter by Signature Size 30 for the top and a 50 weight Aurifil for the bobbin. I'm pleased with the quilting.
I'm moving along on the Fusion Blanket. The first set of squares are all blanket stitched.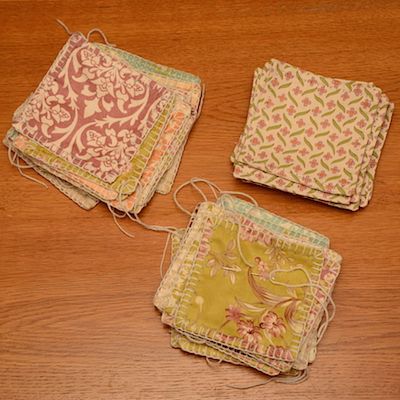 I decided I'd like to make the blanket a little larger, so I stitched up more squares now waiting for blanket stitching. That means more blanket stitching in the evenings. I have continued to practice 2 crochet stitches that will be used to connect the squares. I will eventually get brave enough to share a photo of that progress! Ha!
The t-shirt quilt is now a top and waiting on the Longarm quilter. Sorry no picture. I might be getting it back to bind, if so, I'll get a photo then. it's large and I need help holding it up for a photo. Adult kids need to come home and help. tee hee
This week's To-Do Tuesday List
Sew t-shirts together with sashing and border. ✔️ Pieced and ready for longarm quilter.
Sandwich and quilt Sew All Around BOM quilt top. ✔️ Sandwiched and quilting underway.
Continue Fusion Blanket. ✔️ Part 1 blanket stitching complete, but making more squares that will need blanket stitching.
To-Do List for this week:
Continue Sew All Around BOM, binding is next, I'm not sure if I will put a sleeve on it for hanging.
Continue Fusion Blanket.
Hexie quilt top – hope to finish piecing top this Thursday at my quilting group day.
Enjoy Easter with family.
I'm linking to To-Do Tuesday and Linky Tuesday.
Tags: Fusion Blanket, Sew All Around BOM