I hope everyone had a blessed Easter Weekend. We enjoyed having our out-of-town children visiting including our grand-daughter. And of course those who live in-town too!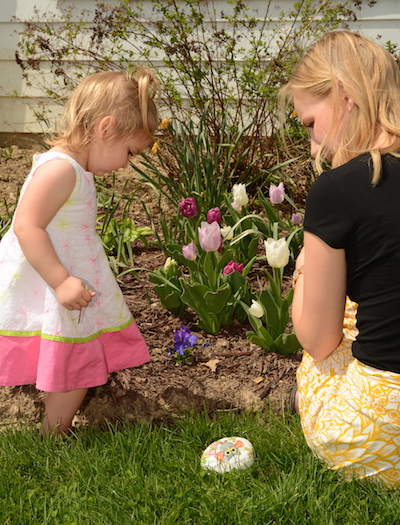 Quilting! I'm loving how the Sew All Around quilt turned out! And I'm not a pink person. But for some reason, I do like this combination of blues and pinks.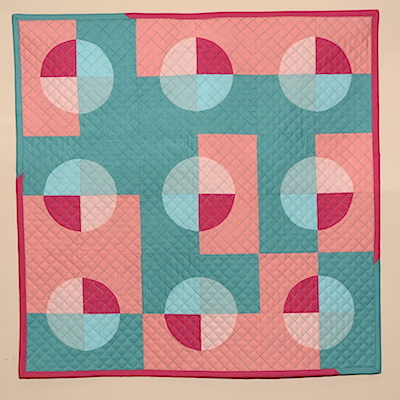 I like how the dark pink and blue binding frames the quilt.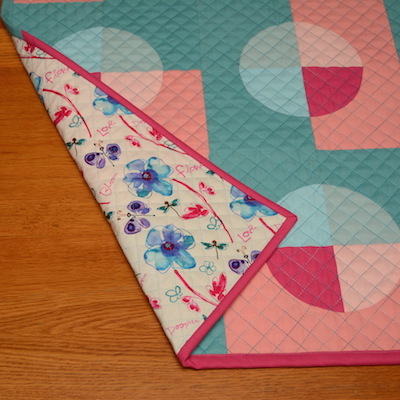 Digging into my stash, I found this piece for the back that is perfect color wise for the quilt top.
I did go ahead and put a sleeve of sorts on the back for hanging the quilt. I put triangles in the top two corners and a tab in the center.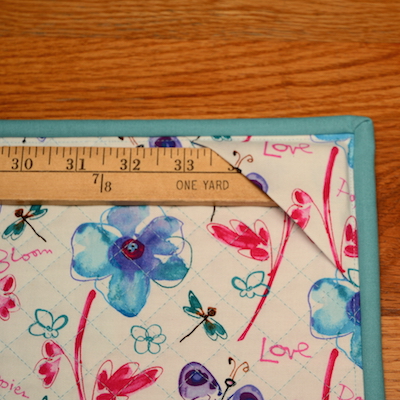 I'm using a yard stick cut to size and placed in triangles and tab to support the quilt for hanging. Using a yard stick for hanging a quilt is a trick I learned from my first quilting teacher 20 some years ago. She liked a yard stick for two reasons, they are basically flat so quilts hang nicely against the wall, and also they are inexpensive from the local hardware store.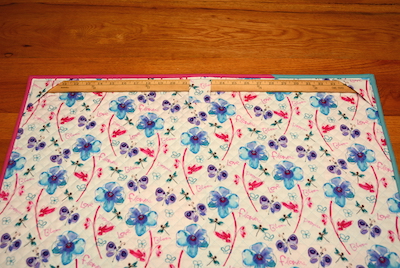 Silly me, I should have used 2 tabs instead of just one in the center of the back! I didn't leave a space for just one nail for hanging! I might be slitting a little hole in that tab for the nail to be centered in the back of the quilt. (Yesterday was not my best day, had a stomach bug all day, and it must have affected my brain as well. sigh)
Here is a close up of the Signature variegated thread I used for the quilting.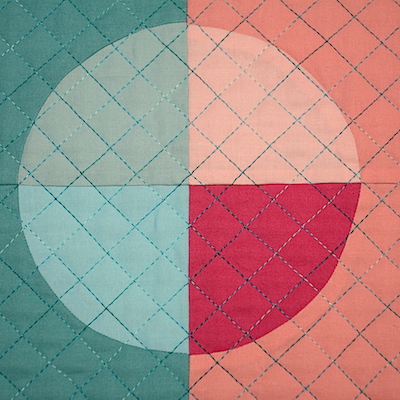 Do you have a favorite way to hang small wall quilts? Please share!
Last Thursday, at my Curvy Quilters sewing day, I got the hexies all sewn together into a quilt top.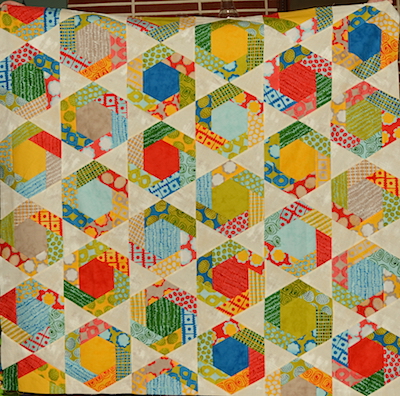 I'm pondering if I should add borders. I'm also wishing I could find more of the Moda Honeycomb "From Outside In" precuts or even fabric, to make 3 more rows for a twin size quilt. But this is an older line, and I'm not finding it for sale as I search on line. I used three packs of Honeycomb precuts for ~54″ square quilt top.
How did I do on last week's To-Do List?
Continue Sew All Around BOM, binding is next, I'm not sure if I will put a sleeve on it for hanging. ✔️ Binding and sleeve on!
Continue Fusion Blanket. ✗
Hexie quilt top – hope to finish piecing top this Thursday at my quilting group day. ✔️ Top pieced. Add borders or not?
Enjoy Easter with family. ✔️ We had a wonderful time with family and perfect weather too.
This week's To-Do List:
Get back to blanket stitching Fusion Blanket squares.
Need to work on OMG for April – charity quilts!
Sit Down Free Motion Quilters April BOM pattern is up and ready. Paper Piecing this month.
Hexie quilt – borders or not? Figure out a plan for the quilt.
I'm linking to To-Do Tuesday and Linky Tuesday.
Tags: Sew All Around BOM