Yesterday I picked up the t-shirt quilt I've been working on from the longarmer.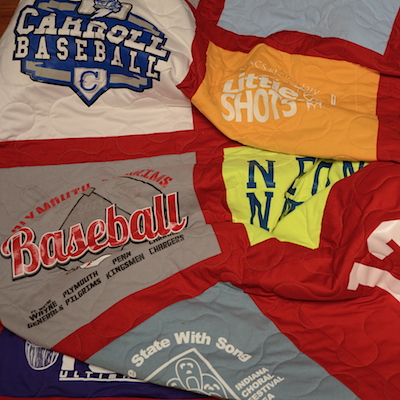 Today I squared up the quilt, cut and attached binding.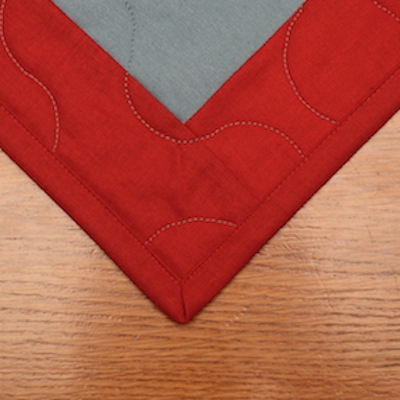 Above is a close up of the binding at the mitered corner on the t-shirt quilt. I sew the binding on to the back of the quilt, and flip it to the front. Then machine stitch the binding in place using the Flat Fell pressure foot by Janome.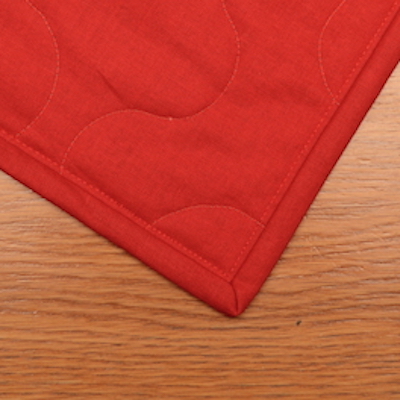 Above, is what the stitching looks like on the back. Sorry that it is red on red, but my client wanted red sashing, border, back, and binding, so I hope you can see the thread. The stitching is just about 1/8″ beyond the binding.
Machine stitching on a binding is my favorite method for attaching bindings. No more hand stitching for me. Too many quilts and not enough time for that hand stitching! Of course, I'm not entering quilts into shows, if so, I would be doing that stitching by hand.
Another little accomplishment was stitching up the April block from the Sit Down Free Motion Quilters Facebook group. This month was paper piecing. Just one block.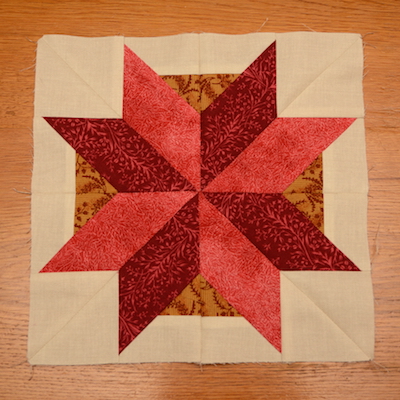 Jeanne Harrison of the Sit Down Free Motion Quilters Facebook group has lots of videos for the BOM offered in the group. If you have not tried paper piecing, you might want to join the group and take a look at her paper piecing method.
Have you ever tried paper piecing? Do you like it?
How did I do on last week's To-Do List?
Get back to blanket stitching Fusion Blanket squares. ✔️ Slowly but surely, I'll get those squares all blanket stitched.
Need to work on OMG for April – charity quilts! ✔️ I think my goal was too big this month. But the month is not over yet! I have one charity quilt sandwiched and FMQ almost completed. Then binding, and the 2 more to do.
Sit Down Free Motion Quilters April BOM pattern is up and ready. Paper Piecing this month. ✔️ Block pieced!
Hexie quilt – borders or not? Figure out a plan for the quilt. ✗
This week's To-Do List:
Finish 3 charity quilts. Tops are pieced. Maybe backs, hope so. Sandwich, quilt, and bind. One is almost complete.
Keep plugging away on Fusion Blanket – blanket stitch squares.
I'm linking to To-Do Tuesday and Linky Tuesday.