It is Spring, after all, so why not go off of my well made plan for the year and head down a bunny trail by starting a new project!?
At the beginning of this year, I kind of promised myself no more starting new quilting projects until I got a handle on more UFOs and WIP. Sigh. That latest until March!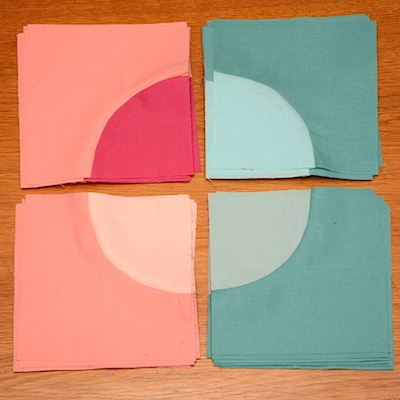 Maybe I should stay off of Facebook, because I see so many neat Quilt Alongs, BOMs and new patterns that grab my attention. I need to say no! But I went ahead and started a new BOM called Sew All Around. Off I go on yet another Bunny Trail!
I did attack a UFO. This one I started back in 2012. The Fusion Blanket, part pieced and part crochet.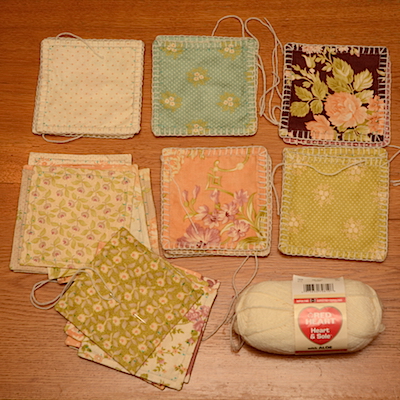 I had sewn the squares way back in 2012, and have just started the blanket stitching around them. I'm meeting up with a friend tomorrow who will be teaching me how to crochet. Next step is to crochet the blanket stitched squares together. Check out this tutorial if you'd like to start one of your own.
2012 UFO – that's 5 years old! What is the oldest UFO you have ever decided to return to and work on?
Last week's To-Do Tuesday List, how did I do?
Continue hand work on Dropcloth Sampler. ✗ Didn't touch it.
Blanket stitching 4 1/2″ squares. ✔️In progress!
Start customer T-shirt quilt. ✔️ Prepping t-shirts.
Enjoy weekend with family. ✔️ It is always nice to see our adult kids and our grandchild!
This week's To-Do Tuesday List
Get back to Dropcloth Sampler.
Continue Fusion Blanket.
Continue t-shirt quilt.
Next step of Sew All Around BOM.
Enjoy Curvy Quilters sewing Thursday.
Tags: Fusion Blanket, Sew All Around BOM